You won't BELIEVE how much your mum salary should be!
Ever find yourself feeling more like a taxi driver than a mother? Join the queue and add that to your list of jobs you probably would qualify to do. Here are the rest...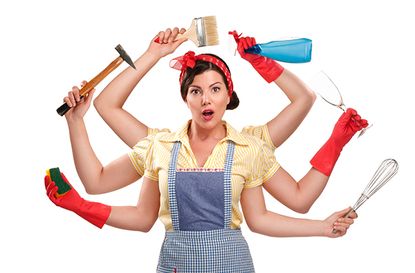 As well as learning how to change nappies, get your baby to sleep, feed them when they're hungry and adjust to your new lifestyle as a parent, you also take on a whole load of new roles as a mum - all of which amount to one hell of a CV.
Some of these skills you probably never knew you had: patience, diplomacy, creativity, caring, organisational skills and juggling, to name just a few.
But what if your CV was real and you were being paid? The list of jobs and the hours being a mum are so long, that a recent study conducted by Interflora calculated what a mum's annual income should be as a salary at a staggering £172,000! The job would be 119 hours a week (7am till 11pm - phew) and paid more than doctors, bankers and even the Prime Minister!
The 13 other job titles you should have
From nurse to artist, chef to secretary, your job title is constantly evolving and changing. Here are some roles you are definitely qualified for (without the hefty salary... )
Sports coach/teacher
You might have thought signing your kids up for after school clubs would give you an hour or two to yourself, but then you realised that wasn't the case. The kids might be off your hands for a little while, but afterwards there are hours of practice and preparation to put in to help them become the best they can be at their favourite sport or hobby. And we bet your average sport's coach doesn't get landed with washing the uniforms either.
Artist
When you become a mum, you'll also need to become brilliant at painting Easter eggs, making costumes for nativity plays, decorating birthday cakes beautifully, making clay models, creating Halloween masks, carving pumpkins and helping to draw graphs for maths homework! In fact the list of 'fun' activities you are now required to help your child with probably amounts to a nomination for the Turner prize.
Chef
Annabel Karmel eat your heart out! Once you're past the baby rice and pureed banana stage, it's all go, go, go on the food front. You can chop a carrot at lightening speed, throw together a family meal from store cupboard ingredients and have even been known to whip up the odd birthday cake too. But they're fussy customers, so you've have to learned how to disguise the veggies, make their food look pretty, leave out things they hate while also trying not to serve tomato pasta seven days a week. With hind-sight, being a professional chef might have been less work.
Teacher
Having children takes you back to your own school days as you struggle to remember how to multiply fractions, what a metaphor is and how to help them put together a project on the Romans. Ok, so there has been the odd time when you've had to Google the answer but we bet teachers can't know EVERYTHING either so you're pretty much qualified in our book - go to the top of the class.
Taxi driver
If you were paid as a taxi for all the trips you had to do in the car you'd be a very wealthy woman. Kids need picking up and dropping off at school, clubs, their friend's houses… the list goes on, and so does your driving, on and on and on and on…
Entertainer
Can you sing? Can you dance? Can you make children laugh when they're feeling down? Even if you can't, have two left feet and always sing flat, your children will love your attempts at entertaining them and you've just resigned yourself to acting a bit mad a lot of the time to get them giggling.
Juggler
Men are usually awful at juggling (although that's not an official statistic!), so it's up to mums to keep the balls in the air. Have you ever tried cooking dinner, stopping the kids from squabbling, chatting to your sister on the phone and mopping up cat sick all at once? Yep, every day fellas.
Cleaner
You sometimes wonder how your family would cope without you there to pick up after them - they must think the washing pile shrinks by magic! You could easily scrub the house top-to-bottom in record time thanks to you having a to-do list as long as your arm to get through every day.
Referee
'Mum, it's not fair!' Siblings have the ability to fight like no one else and, of course, it's always someone else's fault. Mums need to think on their feet, with subtle bribery (or is that just us?), time out, treats and absolutely no taking sides... ever.
Accountant
In charge of all things money – you are the official accountant of the family. You hand out the pocket money, budget the food shop and pay all of the bills. You might as well be chartered.
Nutritionist
Once you become a mum you also become a fully paid up member of the food police, reading the small print on every food label in the supermarket. Is E331 one of the 'bad' E numbers? Will my toddler get hyper on orange juice? How do I make sure my baby gets enough iron? If you already know all those answers then you are as close to the real deal as there is without a qualificiation.
Secretery
Avoiding diary disasters and keeping track of all your kids' activities is almost a full-time job. From dentist appointments to haircuts, school fetes to play dates, after-school clubs to their friends' birthday parties. Our kids' social lives are often better than ours and even when we do get the chance to go out we're usually too tired from running them around all day!
Nurse
TLC is a daily requirement from a mum, especially when your child is sick. You get to know the symptoms of childhood illnesses from croup to cradle cap so well that you're sure you could qualify as a nurse! You've no doubt got one hell of a medicine cupboard too and know that chicken soup is perfect for a cold and that a kiss can make any bump better.
Rosie is an experienced food and drinks journalist who has spent over a decade writing about restaurants, cookery, and foodie products. Previously Content Editor at Goodto.com and Digital Food Editor on Woman&Home, Rosie is well used to covering everything from food news through to taste tests. Now, as well as heading up the team at SquareMeal - the UK's leading guide to restaurants and bars - she also runs a wedding floristry business in Scotland called Lavender and Rose.