Online shopping vs shopping in store: A realistic mum's guide
In our BISS Post-Baby Body series we're exploring how real mums feel about their bodies since having children. Sarah Rogers-Hart, blogger at Operation Parenthood, opens up about how shopping has changed since having children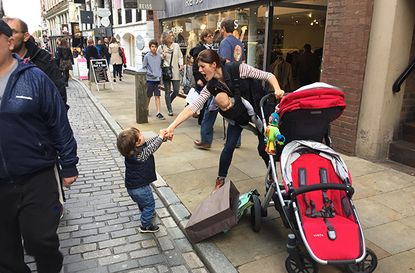 In our BISS Post-Baby Body series
we're exploring how real mums feel about their bodies since having children. Sarah Rogers-Hart, blogger at Operation Parenthood
, opens up about how shopping has changed since having children...
It was total humiliation. And my shopping habits changed in an instant. I needed a quick exit, but was foiled by my clumsy double buggy becoming jammed in the changing room door. Said buggy then careered into several clothes rails, before finally veering out of the shop, narrowly avoiding an innocent passer-by. And of course Little Lady and Little Man revelled in providing the accompanying soundtrack duet of piercing screams and bellowing tantrums. Just perfect.
Why would I even attempt to go shopping with a toddler and a baby? Well, I needed a new outfit for a very rare evening out. Intellectual conversation was unlikely with my now pea sized baby brain and with sleep deprived eye bags the size of a Kardashian handbag, I decided to go for gold with the outfit. At least I could look like I wanted to feel even if the rest of me was still trying to catch up.
So, on a mission, I had squeezed myself, the buggy, two kids and all their paraphernalia into the now minuscule cubicle. With my pre-pregnancy lacy thongs and bra sets relegated to the bin, I was getting all Bridget Jones and trying to squeeze my somewhat 'relaxed' post babies tummy into one of those Spanx-style shapewear contraptions.
Wearing little more than my birthday suit, I was attempting a move any contortionist would be proud of when my Little Man decided this was the moment he would master opening latches.
The door swung triumphantly open displaying my sun-starved, post-baby, cake-loving posterior to the entire shop floor. On a rainy, very busy, Saturday afternoon. "Boo"! Shouts Little Man.
It was time for a reality check. Kids + shopping centres = stress, hasty purchases, humiliation and defeat.
Oh yes, once you become a parent, online shopping is the way forward. Whilst the coffee at home might not be as frothy as a Costa, at least you get to drink it. And, you might actually get around to buying something for yourself and not just the kids.
You can peruse all your favourite stores without having to apologise for your child shouting, "poo-poo" and "trumpet". And perhaps, just for an evening, you can feel like the young, stylish, woman you still are (she's just in hiding sometimes!).
So, did I ever buy the aforementioned piece of Lycra? Nope. After the initial wave of humiliation had died down, I realised that whilst I may have a few more lumps, bumps and scars than I did before, it's because I'm now a member of a pretty special club of strong, savvy women that can survive and thrive through pretty much anything. That what I was seeing as imperfections are just part of my life story and that's ok with me. (Plus, I'll never truly be able to look at that underwear without feeling a little queasy!)
So mums, for one evening, give yourself a break and do something just for you – because you're worth it.
Ten steps to a successful shopping experience post kids
Pack the kids off to bed early (change the clocks if you need too!).

Allow Daddy to indulge in an evening of sports TV. He's not going to resist and it means you can say the S word without him freaking out and hiding all your credit cards.

Create your desired environment with mood lighting and mood enhancing music.

Assemble appropriate snacks. I find wine and chocolate aide my relaxation and inspiration (although admittedly this has led to some 'interesting' purchases!).

Get comfy. Let it all hang out, safe in the knowledge that no Basic Instinct-style reveals will be forced upon you! (No, I'm never going to forget it!)

Visit all your favourite online stores, simultaneously if you like, without incurring blisters, achy shoulders or shoppers elbow.

Purchase the objects of your desire and wait for someone else to do all the legwork.

Feel feminine, individual and a bit like 'you' again. Mummy's having a break.

Try and stay awake long enough to enjoy feeling this way!

Repeat process but with trying on clothes, rather than purchasing once they arrive.

BISS is GoodtoKnow's guest blogging platform that gives a voice to real mums (and dads!). Head to our BISS channel for your chance to write for GoodtoKnow and to read all the brilliant blogs from real parents just like you.
Trusted, informative, and empathetic – GoodTo is the ultimate online destination for mums. Established in 2007, our 15-year-strong archive of content includes more than 18,000 articles, 1,500 how-to videos, and 7,000 recipes.