We earn a commission for products purchased through some links in this article.
A new 'social media speak' guide for parents has been launched as part of an ongoing initiative to keep children safe online.
The dictionary, which has been compiled by the National Crime Agency's Child Exploitation and Online Protection Centre (CEOP) and The Parent Zone, a parenting website, is designed to help adults identify when their child might be using potentially dangerous language in chat rooms or on online messaging services – particularly in the context of sexual conversation, or giving out personal details.
The new service will allow parents to identify acronymns that reference everything from sexual activity to bullying
'The internet is an incredibly powerful tool, which is changing the way our children learn and stay in touch. But we must also make sure we do everything we can to help them stay safe online,' Secretary of State for Education and Minister for Women and Equalities Nicky Morgan explains.
'As a parent myself, I understand how important it is to know your child is safe and that's why this new online service is so important. I hope all schools take advantage of this new resource, which addresses fundamental issues like cyber bullying and body confidence – so that they can help protect their children in this digital age.'
'Cyber bullying, which is now more common than face-to-face bullying, is just one of the areas that Parent Info tackles.'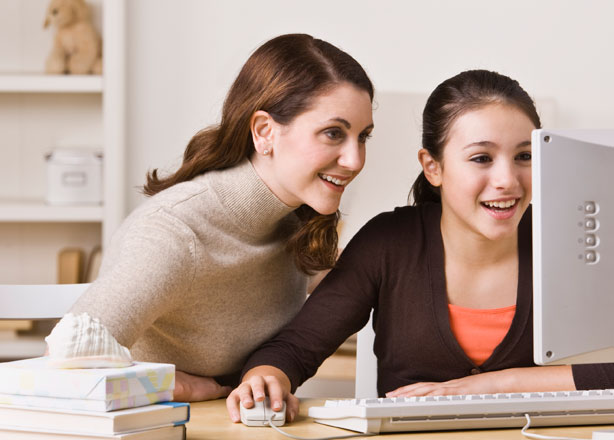 Parents are being encouraged to take a greater interest in their child's digital life to ensure that they are staying safe online
How many of these would YOU understand?
ASL – age, sex, location
CD9 – Code 9 (meaning parents are around)
GNOC – get naked on camera
KPC – keep parents clueless
IRL – in real life.
MIRL – meeting in real life
LMIRL – let's meet in real life
IWSN – I want sex now
MOOS – member of the opposite sex
P911/P999 – parent alert
PAW – parents are watching
POS/MOS – parents over shoulder/mum over shoulder
RU/18 – are you over 18?
WYRN – what's your real name?
Zerg – to gang up on someone
143 – I love you
183 – I hate you
420 – marijuana