We earn a commission for products purchased through some links in this article.
Perez Hilton caused a stir on Instagram this weekend after posting a picture of himself and his two-year-old son Mario sharing a shower.
The celebrity blogger, who is dad to Mario and daughter Mia, captioned the snap 'Our family motto is: #fun! We try and incorporate fun into as much of the everyday things we do! #Bathtime https://goo.gl/BnyhqN #JRhilton'
However, some commenters didn't see the 'fun' side of the image, and instead dubbed the scenario 'kinda creepy' and 'odd'.
Fans were quick to jump to Perez's defense, with one writing: 'It's normal!! if any parents deny they ever had a bath with their child then I find that odd!', whilst another added 'Love this Perez!! My partner and I often take baths or showers with our daughter, sometimes all three of us! It's a special and beautiful time. Keep it up ❤'
Perez, 37, even responded to one of the negative comments himself, clarifying that he was actually wearing a bathing suit at the time, but 'didn't feel the need to clarify that in the caption.'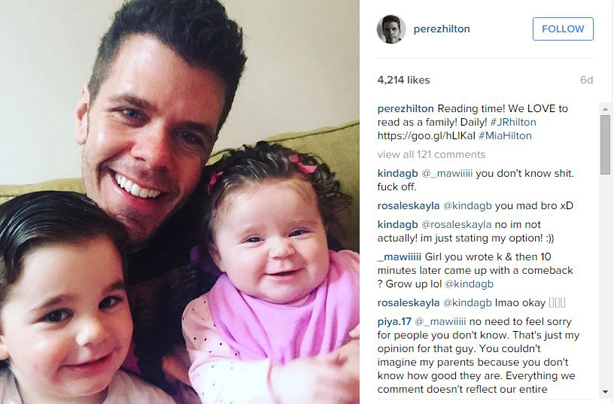 Perez with Mario and his sister Mia
He later told the Mail Online: 'Everyone does what they see fit as a parent. Personally, I enjoy putting on my swim trunks and taking a shower with my son as often as possible.'
'I'd rather do that than leave him unattended, which will not happen until he's older and I'm confident he can be safe alone.'
What's YOUR take?
We asked you what you thought of the picture of Perez and his son, and whether you ever shower with your own kids. Here's what you had to say:
Danielle Marshall: 'Yes I shower with my little boy it's the only way I can get him used to it'
Gemma Smart: 'Of course I shower with my kids! Two birds one stone and all that! Not sure why it causes controversy?????'

Barbara E. Hoban: 'Sometimes I have my 4 year old in the shower with me. Occasionally he wants me in the bath with him too… There's been two occasions where there's been me, my 4 year old, and my 18 week old in the bath all at the same time! Why would I say no to precious bonding time?'
Karin Wright: 'Omg this world has gone MAD of cause they do. There is absolutely nothing creepy weird about it. Sad days when parents can't be parents.'
Sharon L Clark: 'It's cute! Some people have such sick minds. Says an awful lot more about them then anyone else! My daughter used to bath with both me and her Dad when little. It's perfectly normal'
Megan Gwylan Woodman: 'My toddler doesnt like the water from a shower so we bathe together weekly. Really nice bonding time'
Linda Jane Todd: 'I can't stand the man but in this instance have to defend him. What is wrong with washing with your little one?'
Do you agree with Perez, or do you think grown up shower and bath time should be kept seperate from the kids? Leave us a comment and let us know your thoughts!