We earn a commission for products purchased through some links in this article.
The UK's first 'period panties' will be available soon from WUKA, a company run by Ruby Raut.
Keen to learn more about the product, we spoke to the brand's 28-year-old founder to find out why she decided to launch the briefs, who can benefit from using them and how long customers can expect them to last.
'When we conducted market research, we found that more than 70% of menstruating people are not happy with their current menstrual product and would prefer something more comfortable and sustainable,' she told Good To Know.
With women said to spend £1,500 on pads and tampons in their lifetime, WUKA's smalls – which can hold around 20ml of blood – could also offer a way of saving money on sanitary items.
'Additionally, spending £8 every month on hidden costs such as new underwear due to stains and leakage (who hasn't been there!) adds up to to £96 a year,' she continues.
'If you were to use WUKA Period Wear, a pack of 4-5 WUKA replaces two years' worth of disposable menstrual products.'
According to Ruby, there are a number of different people who can benefit from wearing the panties, ranging from youngsters who've just started their period to women of menopausal age.
'The underwear is also ideal for those with leaky bladder and incontinence,' she comments.
'WUKA is a great solution for people with learning difficulties who find managing periods a challenge.'
Ruby, who grew up in Nepal using sari rags as sanitary wear, is also keen to stress that WUKA's soft and stretchy knickers are ideal for new mums too.
'The underwear can be used for postpartum bleeding – but this depends on your flow. Postpartum bleeding is really heavy on the first few days, but if you use few pairs over the day that should have you covered,' she says.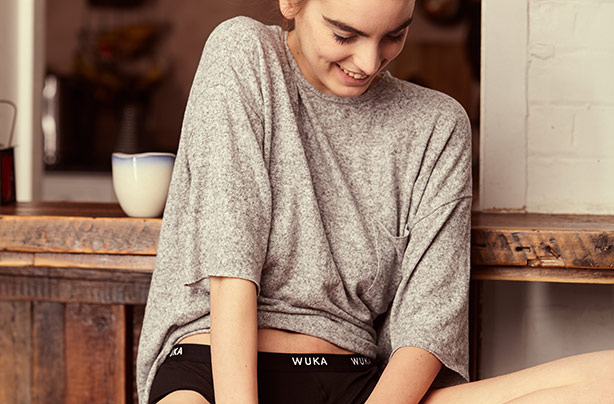 'The best part is you will be wearing a very comfortable underwear – especially when you are feeling so sensitive – rather than some ugly looking uncomfortable nappy pads.'
Available in sizes ranging from a six to a 20, the undergarments are crafted using a super absorbent fabric with a moisture barrier – making them a viable choice for both light and heavy bleeding.
'The core fabric has antibacterial properties which inhibits bacterial growth and smell. The leak-proof layer is breathable which help to reduce and smell too,' Ruby reveals.
'However like any menstrual product, you should not wear them more than 6-8 hours. Make sure you are extra clean during your menstrual cycle and you know your flow best.'
A single pair of period panties from WUKA can be snapped up for £29.99 and can stand at least 20-30 washes.