Portia Oduba opens up about struggling with her new baby while Ore is on the Strictly tour
Ore Oduba's wife admits it's been a struggle to look after their son alone for the last few weeks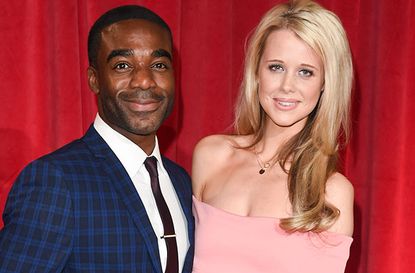 Portia Oduba has had a tough few weeks as a new mum as she's been looking after baby Roman alone while husband Ore Oduba participates in the Strictly Come Dancing tour.
The TV researcher, who welcomed their first child in early January, has been very open about trying to cope while being a temporary solo parent in a series of emotional Instagram posts.
Ore has been on the road with Strictly since January 19, and the relief of finally having him home, even for just a couple of days, proved to be too much for Portia who revealed she 'burst into tears' at the sight of him.
Sharing a sweet snap on Instagram of the couple enjoying a day at the park, Portia said: 'It was so good to have the hubby home yesterday... he walked through the door on Sunday night and I burst into tears. Those weeks felt like forever and seeing him hold a much bigger Roman just melted my heart...
'That night watching Ore get to know him was a learning curve for me too and it was important for me to let Ore do it... He took it totally in his stride... Having hubby home also meant we shared the night shifts and last night I was very glad of that!'
Just before Ore's arrival on Sunday, Portia shared another emotional post in which she admitted she was 'exhausted' looking after their son alone.
'The last few days have been quite tiring ones... Roman I think is going through a bit of a growth spurt and has been wanting to feed lots especially in the night which has been really exhausting when you are doing the night shift on your own...,' she said.
'But anyway, tomorrow is a new day and one I have been looking forward to for a few weeks now.. @oreodubaofficial is coming home which we BOTH can't wait for.. It's been a long couple of sleepless days/nights..'
Ore will be away now with the Strictly Come Dancing tour again until it wraps up on the 11th February with one final show at London's O2 Arena.