Week by week pregnancy guide: 35 weeks pregnant
Here's how your baby is developing...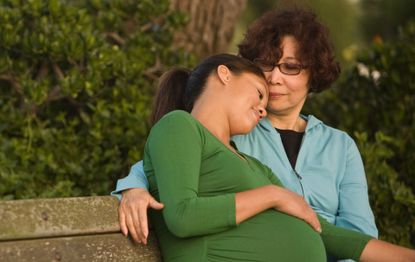 GoodTo newsletter
Sign up to the GoodTo Newsletter. You can unsubscribe at any time. For more information about how to do this, and how we hold your data, please see our privacy policy
Thank you for signing up to . You will receive a verification email shortly.
There was a problem. Please refresh the page and try again.
You're now 35 weeks pregnant but what should you expect? Read week 35 of our week by week pregnancy guide to find out everything you need to know...
During pregnancy, week by week, (opens in new tab) there are a lot of changes as your baby grows in size and weight and 35 weeks is no different.
You might begin to feel a little uncomfortable, which is normal, so we've put together a guide on what to expect and how to relieve your symptoms if you do start to feel breathless. Here's everything you need to know...
35 weeks pregnant: Symptoms
You may be feeling breathless as your baby presses into your diaphragm. Ease it by kneeling down on all fours, with your arms at shoulders' width, to free up precious breathing space. You'll notice your Braxton Hicks (opens in new tab) 'practice' contractions becoming stronger and making your bump feel hard for a few seconds at a time as they work to tone your womb in preparation for labour.
Your pelvic joints expand thanks to the pregnancy hormone, relaxin, kicking in, along with the weight of your baby.
Some women experience leaking breasts during late pregnancy. To avoid any embarrassing damp patches, invest in some breast pads.
If you have a severe headache, sudden swelling or feel very unwell, call your midwife. It may be a sign of a serious and potentially life-threatening condition of pregnancy known as pre-eclampsia (opens in new tab).
35 weeks pregnant: Fetal development
Your baby is around 45cm and weighs 5lbs. Your baby's digestive system is now developed, as is their central nervous system. Most babies that are born now are likely to survive with no major problems.
In 96% of cases your baby's head will now be engaged. If you're expecting twins then normally one will be engaged and the other will fit around it.
Your unborn baby is having sweet dreams! Babies spend 60% of their last three months in the womb in REM - the rapid eye movement phase of sleep which indicates dreaming. It is thought this encourages brain development.
35 weeks pregnant: The changes you should make
Be well prepared! Pack two hospital bags. Even if you're planning a home birth you may end up in hospital. Have one for the labour with facial wipes, drinks, glucose energy tablets, a maternity bra, pads, disposable pants and a babygro for the baby. And one for after your baby is born with changes of clothes for you and the baby, front-opening nighties, nappies, toiletries etc. Keep them by your front door.
Group B Strep (GBS) is a bacteria commonly found inhabiting the human digestive system (and often the vagina of adult women). It is normally harmless, however, it can be passed to newborn babies around childbirth, and in babies who then develop GBS infection, it can be very serious. There is no routine testing for GBS in the UK, but you can arrange a private test. For more information and advice go to Group B Strep Support.