Mum warns parents of teenagers about 'Letter X' Snapchat craze that encourages 'horrific' bullying
'It was horrific'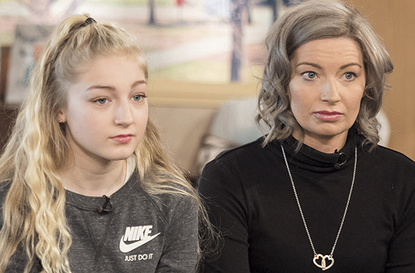 A mum has issued a warning to other parents after her teenage daughter made her aware of a new social media bullying craze.
Rachaele Hambleton, 34, appeared on This Morning to detail how 12-year-old Betsy had flagged up the 'Letter X' Snapchat craze, which involves children picking a target and then joining forces to send a barrage of cruel insults to the chosen victim.
'It was horrific; the words and description of people, they pick on anything, whether it's bad skin, weight,' she said.
'And with teenagers as well, it's when they're at their most unconfident with their body changing. She showed me what was happening and she was in shock.'
'Someone called her a dumb blonde, it's not too bad but not acceptable. She said, "I don't want to get involved. If you want to involve me, don't, I think it's disgusting".'
Earlier this week, Rachaele, who blogs as Part-Time Working Mummy and is also mum to two other daughters and two step sons, shared an emotional post explaining how she felt when Betsy told her about the game.
'People you know, including your friends have begun a new online 'game'. It consists of sending someone the letter 'X'. That person then sends you back a name of someone you all know...you then write the most horrific things you can think of about that person - about their weight, their appearance, their personality...the more horrid the comments the better.'
'It then gets posted anonymously, but publicly, upon snapchat stories for everyone to see & share.'
'You couldn't understand why people you know & like were doing this and repeatedly showed me various names and comments whilst in shock at what was being written about them.'
Rachaele then recalled her own experience of being bullied at school, stressing that too many children have lost their lives to the issue.
'Too many children have committed suicide over the world due to bullying. Too many children have chosen to put ropes round their necks or swallowed too many pills because they feel the only way out is to kill themselves than continue to cope with the sheer devastation that bullying brings into their worlds, world's that they have only spent very few years in,' she wrote.
https://www.facebook.com/PartTimeWorkingMummy/posts/1799987193661463:0
However, she added that she was incredibly proud of Betsy's reaction to the ordeal, which saw the teen writing her own Snapchat response to the challenge, telling friends that it was 'cruel' and 'mean'.
'I see that fight in you, it's as fierce as fire and I'm left astounded that you've found it early enough to make a difference to people's lives right now,' she concluded. 'I will do nothing but encourage it baby.'
Trusted, informative, and empathetic – GoodTo is the ultimate online destination for mums. Established in 2007, our 15-year-strong archive of content includes more than 18,000 articles, 1,500 how-to videos, and 7,000 recipes.