We earn a commission for products purchased through some links in this article.
It's hard to juggle working life and motherhood at the best of times, so we can only imagine how busy former X-Factor contestant Rebecca Ferguson is splitting her time between a busy music career and being a single mum of three.
Speaking to OK magazine, Rebecca, 28, who gave birth to her third child late last year, said, "You always have guilt as a working mum and you overcompensate by buying them loads of things. That's what I was doing anyway. I've kind of realised now that I'm the best mum I can be."
Rebecca gave birth to her third child Arabella in November 2014
Speaking about Arabella's father, who left when she became pregnant, Rebecca explained: "When I found out I was having the baby, it was a shock. I don't really talk about him, mainly out of respect for Arabella."
Luckily she has a better relationship with Karl Dures, the father of her two eldest children, Lilly May, 10, and Karl, 9.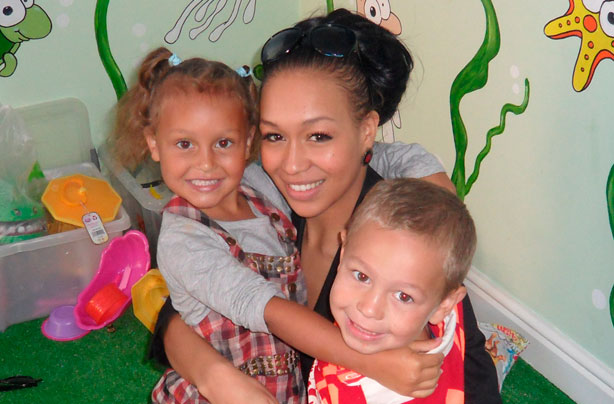 Rebecca with her eldest daughter and son during her time on the X Factor in 2010 "He's not a perfect person and obviously we're not together, but he's been just so supportive." "At the minute we're both focusing on the kids and we're kind of open to seeing what happens. I've been in a relationship since I was 17, so it's hard for me to be single, but at the same time I'm enjoying some me time."
Rebecca also said that there's no time in her jam-packed schedule for worrying about what other people think of her.
"Some people won't like me, that's just human nature. I battled with that for years, trying to please people, but now I haven't got time to win people over! I've got nappies to change!"
A girl after our own hearts – we think you're doing a great job, Rebecca!