The 11 best lessons Roald Dahl has taught us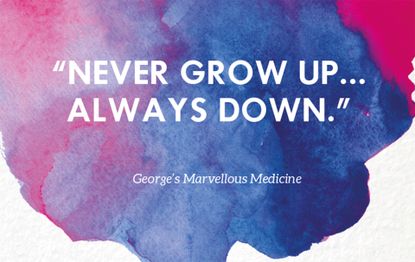 Happy annual Roald Dahl Day!
Today, the world celebrates Roald Dahl Day - marking what would have been the beloved novelist's 102nd birthday.
The ingenious creator of characters including Willy Wonka, Matilda and Fantastic Mr Fox coloured our childhoods (with the help of Quentin Blake's iconic illustrations) - and has managed to bring endless joy into our adult lives.
Becoming a literary heirloom to our own children, with plenty of hand-me-down novels and blockbuster movie adaptations to watch, Roald Dahl is an endless source of fabulous quotes.
And so, in celebration of the annual day, here are some of the very best, timeless pearls of Roald wisdom - and exactly when you should use them.
1. When you need a little magic
A wonderful little piece of advice directly from the pages of Charlie and the Chocolate Factory. The much loved 1964 classic tells the tale of young Charlie Bucket inside Willy Wonka's chocolate factory.
The book has been adapted into two major motion pictures, most recently the 2005 adaptation starring Johnny Depp, and is still an inspiration for keeping good faith in the power of luck.
2. When you need to remember that true beauty comes from within
Many social media users have shared their own favourite Roald Dahl quotes online.
A much loved message, taken from the 1979 novel The Twits, reminds us that having good thoughts will 'shine out of your face like sunbeams and you will always look lovely'.
It specifically relates to Mrs Twit, whose lack of good thoughts leads her to become uglier and uglier, but is a sharp reminder that beauty should come from within.
3. When you need to pull your socks up
Taken from one of Roald's very first books, the classic Matilda, this lovely little quote reminds us to always give life our best shot.
The book tells the tale of a special little girl with telekinetic powers - skills which she plans to use to turn the tables on the terrible grown ups in her life.
Following the popular film adaptation, Matilda was ranked number 30 among all-time children's novels in a survey published by School Library Journal.
4. When you make a mistake
Roald's Big Friendly Giant shared some advice for finding the joy in the ups-and-downs of life - including the fact that we don't have to be right all the time (and sometimes it's okay to be left).
Written in 1982, the wise words of The BFG has since spread like wildfire. As of 2009, the novel had sold 37 million copies in UK alone - with more than one million copies sold around the world every year.
5. When you need to have faith in your own decisions
Roald reminds us to always stay true to what we really want to do. Because, at the end of the day, the worst mistakes make the best lessons!
6. When you need to remember that anything is possible
Because nothing is out of the realms of reality, and your teacher really might be a witch.
Originally published in 1983, the story tells the tale of a young British boy and his Norwegian grandmother in a world where child-hating societies of witches secretly exist in every country.
7. When you're having a bit of a rough patch
Life is full of surprises - and so, when you've found yourself down in the dumps, Roald wants us to remember that we will soon visit 'the most marvelous places'.
Taken from the pages of James and the Giant Peach, the 1961 novel centers around the story line of a young English orphan boy who enters a gigantic, magical peach in order to escape his cruel aunts.
8. When you need embrace what makes you special
Another user has shared their favourite quote, from the 1970 novel Fantastic Mr Fox, which reads: 'We are all different but there's something kind of fantastic about that, isn't there?'
9. When you need to let your hair down
Adulting can be hard - and Roald reminded readers to always find time to 'grow down'.
George's Marvellous Medicine tells the tale of little George, who decides that the best remedy for his Grandma's grumpiness is a special home-made medicine - which, in true Roald style, is more than she bargained for.
Being a medical expert was one of Roald's 'dreams of glory' - and he dedicated the 1981 book to 'doctors everywhere'.
10. When you need to enjoy the moment
The Big Friendly Giant reminded little readers to always enjoy the in-explainable magic of life - without trying to 'understand' the 'mystery and magic' of our dreams.
11. And, finally, when you need to live your happiest life
One of Roald's very own quotes, the novelist reminds us to enthusiastically 'embrace' life and 'hug it, love it and above all become passionate about it' before its too late.
We'd love to hear your favourite Roald Dahl quotes, so let us know on the GoodtoKnow Facebook page.
Words by Alice-Rose Perry