We earn a commission for products purchased through some links in this article.
After revealing that his third wife was pregnant with twins last year, Rolling Stones guitarist Ronnie Wood has announced that the little bundles of joy have arrived.
His wife Sally, 38, gave birth to twin girls on Monday 30th May, Wood's publicist confirmed.
In a statement, the spokesperson said, 'Ronnie & Sally Wood are delighted to announce the birth of their twins Gracie Jane (6lb) & Alice Rose (5.7lb).'
'The girls arrived on 30 May at 22:30 and all are doing brilliantly. The babies are perfect.'
In February, the musician revealed on his fans on Twitter that he and wife Sally were expecting two daughters.
The baby bump update came as he informed fans his wife had to fly home amid the Rolling Stones tour, because of Zika virus fears. The band were on tour in South America, where the risk of contracting the virus is high.
In the tweets, Ronnie said: 'My wife @sallywood has not been 'sent home' from the @rollingstones tour! Our twins come first and we decided the Zika virus & excessive flying was too dangerous for them.'
The rock star also posted a picture of his wife's growing baby bump to accompany the post.
The 68 year old said last December he is 'over the moon' at the prospect of becoming a dad again.
At the time of the announcement, a spokesperson, who confirmed the couple had already been for their 12-week scan, said: 'Needless to say they are thrilled and overjoyed with the wonderful news.'
Sally, 37, who owns a theatre production company, has been married to the rocker since 2012.
They tied the knot after only six months of dating at the Dorchester Hotel in London.
Which other celebrity couples have exciting baby news to share?
A source said: 'He is looking forward to being a dad again and is delighted for Sally, who really wanted kids.'
They first met a decade ago when they were both working at the Theatre Royal in Drury Lane, although Sally admitted it was a 'surprise' that their relationship extended beyond professional.
When asked about starting a family, Sally said; 'A baby would be nice. Obviously we've spoken about it quite a lot… he's up for it.'
'He's got a lot of friends that are older who have younger children and they all say it's fantastic and it keeps you young.'
While the twins will be Sally's first children, Ronnie already has four children. His eldest is Jesse Wood, husband of Radio One host Fearne Cotton, from his first marriage to Krissie Findlay who died in 2005.
He is also father to daughter Leah and adopted sons Tyrone and Jamie, whom he welcomed during his marriage to Jo Wood (the pair divorced in 2011).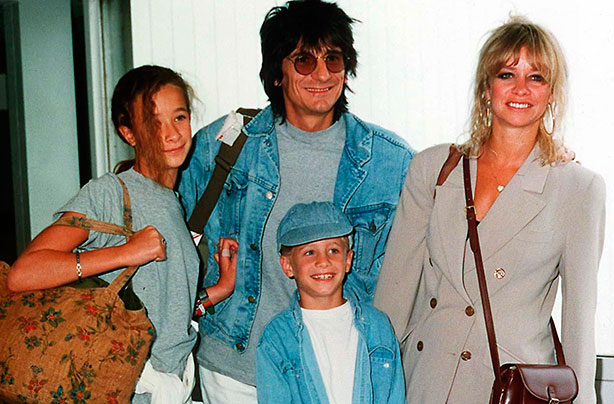 Since leaving Jo, Ronnie has had a string of high profile romances with younger women, including a 19-year-old Russian cocktail waitress.
Sally, who once revealed she has never touched drugs and barely drinks, has previously been credited with maintaining Ronnie's sobriety – his last stint in rehab was in 2010.