Actress Rose Byrne confirms she is pregnant with baby number two
The actress gave birth to her first baby in February 2016 with boyfriend Bobby Cannavale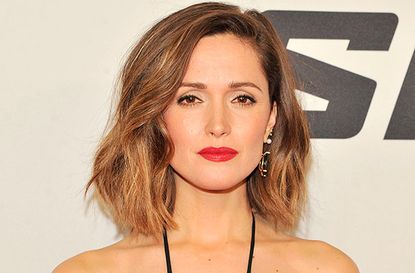 Bridesmaid actress Rose Byrne is pregnant (opens in new tab) with her second child.
The star confirmed the news to US magazine's David Jones, saying: 'I'm a little tired but feeling good.'
'Everyone was very sweet on set today, and you always get a little bit more attention when you're pregnant, which is fabulous.'
The Australian actress, 37, is best known for her role as Helen in the 2011 blockbuster, as well as other castings in TV show Damages and hit comedy Bad Neighbours.
Rose, who gave birth to her first baby Rocco with actor boyfriend Bobby Cannavle in February 2016, spoke to E Online about motherhood last year, joking: 'I'm not getting that much sleep, but that's alright! It goes with the territory.'
Boyfriend Bobby, 47, is also an actor, known for his roles in The Bone Collector and Annie - which is where the couple first met.
The pair have always been very private about both their relationship and subsequent growing family. They began dating in 2012 after getting to know each other on the set of the musical remake, but were keen to keep the news under wraps.
The couple also didn't officially announce their first pregnancy until a couple of months before Rocco's arrival.
Bobby eventually confirmed the news in an interview with US magazine TV Week, saying: 'We haven't talked about it to anyone, but it's pretty obvious if you see her that Rose is pregnant - and I will tell you that I am the dad!'
'Yeah it's a great time and we feel really excited about it,' he added.
Bobby regularly shares pictures of their one year old son Rocco, as well as snaps of him and Rose on holiday.
Rose, who previously dated Australian actor Brendan Cole for 6 years, recently told Hello! magazine how lucky she feels to share her life with Bobby: 'He's this very kind-hearted, wonderful guy. I'm very lucky to have met him.'