Serena Williams divides opinion after revealing she 'never' leaves her daughter with a nanny
Serena Williams openly admits she 'needs' to be with her daughter at all times – which means she 'never' leaves her with a nanny, a choice that has sparked much debate online.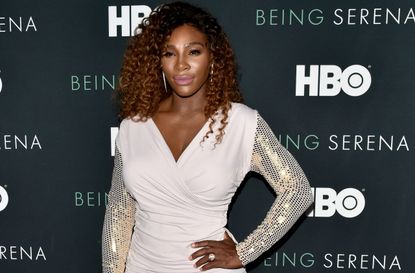 Serena Williams has admitted that she 'needs' to be with her daughter, 6-month-old Alexis Olympia, at all times – which means she 'never' leaves her with a nanny - a choice that has sparked much debate online.
The tennis pro revealed that she hasn't spent a day apart from Alexis since she was born, but if work calls her away for a few short hours, she'll only trust her daughter's care to friends and family.
'I have a ton of help from my mom, my sisters — a lot of people help,' she said.
'I haven't been away from her; but when I am I don't do well, she doesn't do well, she gets irritated, I get irritated, I get emotional. I need to be around her, so I schedule my days making sure I can spend the maximum time with her possible.
Serena has since announced she is pregnant with her second child.
'I'm fortunate enough to have a job where I can do that,' sports star told Popsugar. 'For me, that's super important. And I know not everyone has that position or has that opportunity, but I feel super fortunate that I do, and I don't want to take it for granted. We've been together every day [since her birth].'
Earlier this month Serena shared a snap on Instagram that revealed she doesn't use any professional help when it comes to looking after her child.
But her decision to never put her daughter in childcare or use a nanny has divided plenty of parents' opinions.
One commented: 'It looks like you are proud that your daughter has never been in daycare. Like many middle and lower class moms, I had to go back to work when my daughter was 8 months old… However, I can now say, looking back 16 years, that my daughter seems to have greatly benefited from her daycare.
'It was a deeply loving and stimulating situation with just a few other children. My daughter now at 17 is grounded, very secure, and wonderfully social person. Yes, other factors are also in play, but her daycare also contributed. It is not the worst thing when children go into daycare.'
Another said: 'I wish all parents had enough to never have to leave their kids with strangers'.
While other parents praised Serena's decision, with one writing: 'Why do people expect her to use childcare? People get out of your feelings please, bless you if one reason or the other you can't care for you kids and if you can we are all lucky to have them kids anyway.'
What do you think? Would you choose to keep your children out of daycare and never use a nanny if you had the choice? Let us know your thoughts in the comments below.
A Freelance Writer and Content Editor, Jenni has been working on the women's lifestyle team at TI-Media on and off for over three years. She writes about your favourite celebrities and TV shows so you never miss an update. Jenni also writes beauty news and features - so for all of your skincare and make-up needs, drop her a line.