We earn a commission for products purchased through some links in this article.
No parent really believes that their child would willingly wander off with a complete stranger – but a shocking new social experiment has proved that 'stranger danger' might be more of a risk than you think.
Youtuber 'JoeySalads', who is more commonly known for filming pranks than serious material, has posted a new, very different style of video, which highlights just how impressionable young children can be.
In the 3 minute 39 second clip, Joey approaches a number of different mothers at a local park, and introduces himself.
"Hello, my name is Joe, I'm filming a social experiment,' he says. 'Now, how many times a day do you tell your kid not to talk to strangers?'
'I tell my kid every day,' the first bemused mother replies.
'Right, so if I go over to your kid, right now, will he or she talk to me, or…?' he continues.
'I'm pretty sure she's not gonna talk to you, but try!' she laughs.
She points out her daughter, and Joey heads over, armed with a small white puppy as his talking point.
'Hi!' he calls. 'Look at the puppy!'
'Puppy!' the little girl cries.
'Like the puppy?' he asks, to which she enthusiastically replies 'Yeah!'
They talk for a while about the puppy's name, and then Joey deploys the key question – "I've got some more puppies, wanna go see the other puppies?'.
Without an ounce of hesitation, the girl replies 'yeah!' and takes his hand, walking away whilst her mother watches in absolute horror.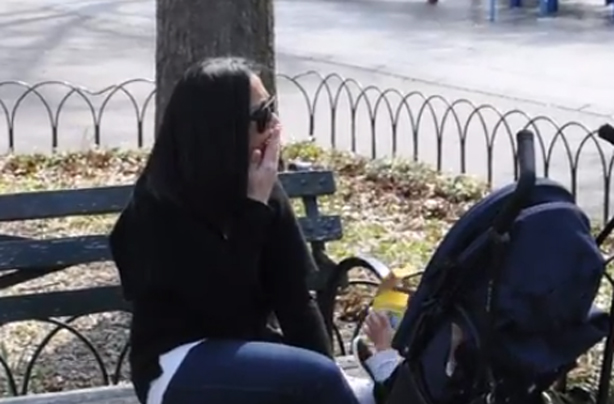 He repeats the experiment twice more, and each time, worryingly, the outcome is the same.
Watch the social experiment in full
The terrifying film highlights a very real danger that all children face every day – and makes the mothers in the film realise they're not as wary of it as they should be.
'Just because you see somebody with a dog doesn't mean you go home with them, because you don't know him!' the final mother tells her son. 'You know what could happen? They could take you and you won't be with mommy anymore.'
As Joey says at the end of the video, 'Over 700 children are abducted a day. Are your kids safe?' – the question that every mother should be asking themselves after seeing this concerning film.
Has this video caused you to think twice about your children's awareness of strangers? Or are you certain they're already aware of the dangers? Leave us a comment below and let us know!