Sir Ben Ainslie and wife Georgie welcome new baby girl
You'll never guess her name!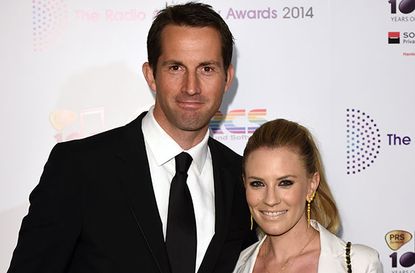 Sir Ben Ainslee and wife Georgie have welcomed their new daughter to the family... and given her a very magical name.
The former Sky Sports presenter Georgie, 38, gave birth to a baby girl with her husband and Olympian sailor, Ben Ainslee, 29, this week.
News of the new arrival was announced with an adorable black and white photo of the couple and new baby, by Ben's sailing sponsor Land Rover BAR.
Sir Ben also shared the tweet, with the caption '#proudestday.'
New mum Georgie also took to Twitter to share her news. She said: 'our little star has arrived. Here she is with very proud and Daddy...Bellatrix Ainslie. #bringthebabyhome.'
Bellatrix might be an unusual name, but it seems to fit the couple's 'little star' perfectly, as it also the name of the third brightest star in the Orion constellation and means 'female warrior'.
The name Bellatrix was, of course, popularised in the the Harry Potter series by the character Bellatrix Lestrange, played by Helena Bonham Carter.
Georgie and Ben first started dating in April 2013, after being introduced to each other by mutual friends.
The pair then married in December 2014 in a ceremony at Hampton Court Palace in Richmond, West London.
Speaking previously about her relationship, Georgie told the Daily Mail: 'We met through friends at an event and I don't really know how to describe it. It was a bit of a thunderbolt moment but a thunderbolt that took years before it became anything real.
'We were in different places, but then in April the stars aligned and it made sense to be together and we haven't looked back since. It's very special... he makes me very happy.'
We think the name Bellatrix is adorable and congratulations to the new parents!
Charlotte Whistlecroft is a former Family writer at GoodTo. She obtained a BA in Theology and Theological Studies at Durham University, going on to study a masters at City University London in 2016. Since leaving GoodTo she has worked as a Social Video Researcher at Mail Online and is now Assistant Producer at BBC Sport.