Skin to skin: Everything you need to know about baby kangaroo care
Mums everywhere swear by this...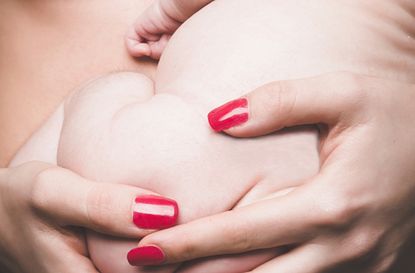 GoodTo newsletter
Sign up to the GoodTo Newsletter. You can unsubscribe at any time. For more information about how to do this, and how we hold your data, please see our privacy policy
Thank you for signing up to . You will receive a verification email shortly.
There was a problem. Please refresh the page and try again.
Skin to skin contact used to be something that just 'happened' following childbirth, but it fell out of favour for a while, with infants being rushed off to be washed and dressed before they met mum.
Fast forward a few years and it's seeing a bit of a resurgence, with many mothers specifically asking for it in their birthing plan to ensure they're handed their little one straight away - onto their bare chest.
So, what are the benefits of skin to skin contact (or kangaroo mother care as it's often now known)? This guide explains it all.
What is skin to skin kangaroo care?
Skin to skin contact is most commonly considered the immediate placing of your baby on your chest following birth so that they can recover and adapt to their new world with minimal trauma.
Following this the regular holding of your newborn on your chest is encouraged from skin to skin advocates who think the process is the key to a whole host of benefits. At this stage it's not just mum who can help either - research suggests babies who lie on their dad's bare chests have similar benefits to those who lay on their mother's, so don't be shy about getting dad involved.
Most experts say that the first two hours are the most important, and that after that regular skin to skin contact will help everything along, too. Dr. Shah, who recommends kangaroo care, told Fit Pregnancy that the point where you stop is when 'your baby starts fussing and trying to get off of your chest' but that it's a good thing to do it 'as long as both baby and parents enjoy it.'
What are the benefits of skin to skin kangaroo care?
There are a whole host of benefits associated with this practice, with many people thinking it can help with everything from mental development to breastfeeding (opens in new tab) success.
Adapting to the world Following their lovely nine months in the womb, birth is a shock to babies. One of the things babies will struggle with straight away is adapting to the change in temperature they're now experiencing. Your skin is a similar temperature to the womb, so your baby will feel comfortable and cosy snoozing on your skin. Plus, it's thought it helps with getting them to sleep well too - a win win for mum.
Boosts mental development There have been studies that show premature babies who are given skin to skin contact could have improved brain development in later life. This is thought to be because babies heart rates, oxygenation and sleep are stabilised during your cuddles which means the brain is better able to develop.
Can my partner do skin to skin with our baby?
Yes! In fact, many people think skin to skin contact with dad is one of the best ways to encourage bonding straight away. Babies are actually born recognising they father's voice from their time in the womb, so skin to skin contact can make them feel calm and will help to keep their bond strong from the get-go.
How can skin to skin kangaroo care benefit breastfeeding?
If you choose to ;breastfeed (opens in new tab) then you'll be happy to know that cradling your baby against your bare chest can help make the process a little easier. A study published in Neonatal Network shows that mums who had skin to skin contact with their babies on average breastfed for three months longer than mums who didn't.
Babies also have a heightened sense of smell, so placing them on you will help them easily seek out your nipple to begin feeding straight away.
And it's not just your little one who will benefit; it'll make producing milk easier for you, too. When you're with your baby the hormones that regulate lactation are balanced, which helps you produce the right amount of milk.
Who's doing skin to skin?
Thousands of women are making the conscious decision to have skin to skin contact with their babies now, but there's also a trend that sees dads take their babies on their bare chests from those first moments.
This topic has become even more popular recently thanks to a viral Facebook post by birthing charity Birth NINO. They posted a sweet snap of a father/son duo cradling their newborn twin babies. In the post it explains that Sweden are leading the way when it comes to skin to skin contact.
https://www.facebook.com/ninobirth/photos/a.139952382840983.1073741825.129078773928344/602271593275724/?type=3&theater
They write about how kangaroo care, as it's known, can help premature babies who would otherwise be kept in incubators.
The post reads, 'A Swedish Professor Uwe Ewald, came to Hvidovre hospital in Denmark to talk about his revolutionary practice, where even very small premature babies are taken out of the incubator to be skin to skin with their parents as much as possible.
'Premature babies, born three months prematurely, are put on the parent's chest instead of alone in an incubator.
'Uwe Ewald points out that the parent's chest regulates the temperature better than an incubator. Skin to skin contact helps the baby to breathe better.
The post obviously resonated with a huge number of people, getting over 22k shares on social media. And it turns out this isn't the only image like this. On other social networking sites there are hundreds of adorable images of fathers cradling their naked babies while practicing kangaroo care.
Here are some of our favourite images of dads and their babies doing a little bonding...