The suprisingly POSITIVE effect coming from a broken home can have on a child
As told by the most heartwarming video you'll see this week.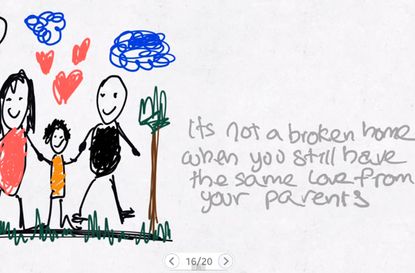 Being a child of divorced parents is common these days. According to Relate, 42% of marriages now end in divorce, and almost half of divorces involve children under 16 years of age.
However, despite the fact that children from divorced families may have friends and relatives in the same situation, it doesn't make the difficulties of being torn between two parents any easier. That's why we were heartened to find this incredibly sweet video created by nine-year-old Azka (we suspect with a little adult supervision), telling the tale of how coming from a 'broken home' hasn't broken him, or his relationship with his mum and dad.
'This is my Story, im almost 9 in a few days and i want to share my Story as a Broken Home Kid. I hope this can inspire you all that everything is ok when the love is still there,' he writes under the three minute clip.
The video opens with Azka telling the story of his family, and his parents' subsequent divorce:
He then goes on to explain that even though his parents are no longer a couple, the family still spends a lot of time together:
'Nothing is broken,' he says. 'They're just not husband and wife but still my parents.'
Then he says the most important thing of all:
And thanks his parents with the cutest picture yet:
Watch the heartwarming video in full:
http://www.youtube.com/watch?v=UM5dxo7edZM
Since Azka posted his 'Story of a Broken Home Kid', it's been viewed more than 400,000 times, and been inundated with comments from people with similar backgrounds.
'I know exactly what you feel. Cause im a broken home too. But dont be sad. u can prove to everyone else with a "normal" lives out there that u can be more and more better than them,' one commenter wrote. 'I mean in school and every thing that you dreamed of.. Thats my kind of motivation.'
'You are such a strong boy, azka. And you are very lucky to have great people as your parents. Stay strong and kind, kid!' another posted.
Azka's video is the perfect example of how seperation and divorce are not always the worst things for a child - what matters is having two parents that love and support them, even if they're not husband and wife as well. If your family is going through a break up, or you know someone else who is, it's worth sharing his words with them - to let them know that there is a very happy light at the end of the tunnel.
Trusted, informative, and empathetic – GoodTo is the ultimate online destination for mums. Established in 2007, our 15-year-strong archive of content includes more than 18,000 articles, 1,500 how-to videos, and 7,000 recipes.