Story starters: Creative writing prompts for children
Help your little one to develop their imagination and their writing skills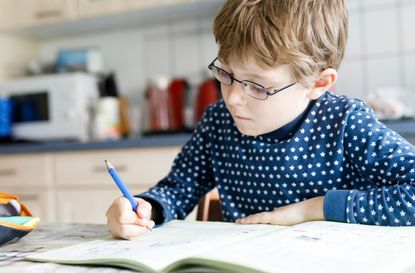 Developing your child's writing skills is a huge part of their education, and ensuring that their imagination and creativity grows with their practical written capacity is essential.
Whether your little one is just beginning to write cohesively or they're writing detailed stories fluently, story starters can be a great way of inspiring them to keep going.
What are story starters?
A story starter is any kind of prompt that helps a child (or adult!) begin to write a story. This can come in many different forms but essentially it directs the child towards a certain theme or gives them a beginning situation that they can build a story around.
Some story starters may just be a selection of words, for example, princess, trap door and forest. From these three (or however many you like) words a child can start to imagine a scenario to build around and eventually make up a whole story starting with those elements.
Another type of story starter is to give an opening sentence, such as, 'He looked off into the distance and could see a figure walking through the mist'. From there, the youngster would continue writing, using that image as their inspiration.
Who uses story starters?
Story starters are sometimes used in schools by teachers when they are encouraging primary aged children to start writing their first stories. They are also often used in children's writing competitions and can be altered to work for younger children or teenagers.
If you want to have fun writing stories with your children or you want to encourage them to develop their writing skills outside of the classroom, why not use story starters yourself? We've got some ideas for you here that you can try with your brood today - learning can be fun, we promise!
Examples of story starters
Depending on the age of your child and how far they have progressed in their writing will mean that some story starters are easier for them to get the hang of than others. Try testing some of these ideas out with your kids, either having fun and pitching in as a whole family or more focused individual stories.
Single word story starters
Give your child these words and ask them to think of a scene that involves those three aspects, carrying on from that moment.
For example, 'the ballet dancer was sitting in a cafe writing a poem...' - you can now think about what type of poem they were writing and who for? Where was the cafe and what were they eating? Were they waiting to meet someone or were they alone? It's natural for your child to get stuck at the beginning but prompting them with questions like this will show them how a little inspiration can go a long way.
Single word story starters can work for any age child but the words should be adapted for their age and ability with simpler more positive words being used for younger children and more complicated words for older children.
Young children: These single word story starter examples would be best aimed at children in primary school.
1. Ballet dancer, cafe, poem 2. Sunshine, bus driver, mountains 3. Monster, space station, midnight 4. Pirates, purple flowers, tractor 5. Treasure map, mermaid, island
Pre-teens: These single word story starter examples are a little more sophisticated, but still touch on fairly light-hearted themes and would be best for children in school years seven to nine.
1. Mobile phone, church, silence 2. Young man, motorbike, sunset 3. Roast dinner, house, pet rabbit 4. Park, film star, runaway tiger 5. Theatre, a secret, photographer
Adolescent These single word story starter examples should push your child's English skills and open up the conversation for more poignant topics, giving them the chance to go deeper with their story. Try these with children in school years 10 to sixth form.
1. Botanical gardens, darkness, rustling 2. Unknown figure, hymn book, Tuesday 3. Time portal, projector, young girl 4. Madrid, empty underground bar, classical music 5. Journalist, a scream, ally cat
Opening sentence story starters
Ask your child to pick one of the following sentences and write it down. Once they get to the end of that sentence they are on their own to keep going. You can ask them prompting questions such as the above but the idea is to visualise the scene in their head so that they can continue it.
Young children: These sentences can be used for any age but are probably best aimed at children in primary school.
1. The young girl could hear piano music coming from her parents' bedroom... 2. The fluffy duck jumped through the puddle when he noticed his favourite snack sitting on the pavement next to him... 3. The astronaut looked out of the window of his spaceship to see the moon had changed colour... 4. The dog sniffed his owner's hand and then said to him, 'Hello, my name is actually Rufus, not Buddy'... 5. The two best friends walked across the playground when they heard a loud, crashing noise...
Pre-teen: These sentences are a little more sophisticated with more challenging themes and so would be more appropriate for children in school years 7 to 9.
1. As he crumbled his fortune cookie he found a tiny map inside, and realised it was of his neighbourhood... 2. It was Valentine's Day but as her letter box pushed open it wasn't a pink card that fell on to her mat... 3. The three friends sat around the dinner table in disbelief at what had just happened... 4. 'Shh be quiet, or they'll hear us!' hissed the bank robber to the policeman 5. 'One last time' she whispered to herself as she walked through the gates to her old school...
Adolescent These sentences contain more complicated words and have less context which will make your child work harder to imagine a scenario that could be happening. These opening sentence story starters are best used with children in years 10 to sixth form.
1. I didn't mean to kill him... 2. As she looked up in disbelief she watched as the moon appeared to be falling from the sky... 3. It was the summer of 1956 when I first realised I could breathe underwater... 4. The date that he was supposed to die had been tattooed on his right arm for as long as he could remember and that date was yesterday... 5. He looked at her peacefully sleeping face and bent down to kiss her, knowing he would never see her again...
Have you ever used story starters with your kids? Which worked well for you? Let us know in the comments below
Sibelle Mehmet is a Junior Digital Writer at Goodto.com. She joined the team in April 2019 and was her first job since completing a MA in Magazine Journalism at City, the University of London in the summer of 2019. Sibelle previously interned at a number of national titles including OK!, Heat, Closer, Mother & Baby, and The Times Newspaper magazine. She's written extensively about the latest celebrity, showbiz, and royal news.