Here's where you can get a personalised onesie for £20 less than the ones in John Lewis
John Lewis is currently selling a personalised fleece onesie for £30 but another retailer is selling an almost identical romper for one third of the price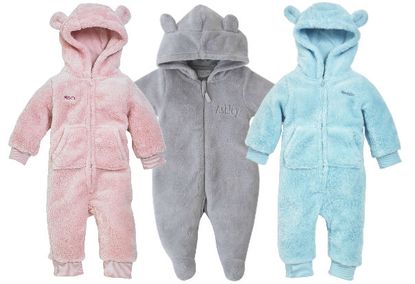 When babies are born, they grow so fast they don't tend to fit their clothes for very long.
Most parents attempt to overcome this by purchasing clothes in larger sizes so their kids will grow into them but as quickly as they do, but they'll also grow out again as they get bigger.
Understandably, no one is going to want to spend a shed load of money on baby clothes that they'll only be able to wear for a few months before they've become too small and need bigger sizes.
At the same time, you can't help but look at the gorgeous kids' clothes, especially things like onesies, so your little one can be snuggled up and warm.
Despite the fact that kids can't read their own names that young, one popular thing for parents has become putting their children in personalised clothing.
It even makes for a thoughtful gift, and John Lewis currently sell an adorable little fleece onesie with ears.
Called My 1st Years Baby Bear Fleece (opens in new tab), it's available from sizes 0-3 months right the way through to 12-18 months and comes in either pink or grey. Whichever colour you pick, you can add a name to it for free. The only catch is it costs £30.
If spending that amount on a snuggly onesie seems a bit excessive, when it'll only fit your little one for a matter of months, Studio have come up trumps with a similar one that costs only a third of the price.
Similar to the John Lewis version, this personalised romper, called Baby's personalised fleece romper (opens in new tab), comes with the cute little hood ears and is available in all sizes from newborn to 18 months.
Currently reduced from £20 down to £8.99, you can choose to buy it in blue or pink and personalise it with a name for free.
Do you find personalised baby clothes cute or are they a waste of money? Let us know in the comments!