This Morning viewers SHOCKED over appearance from mum who breastfed her baby during sex
Holly and Phil struggled to contain their reactions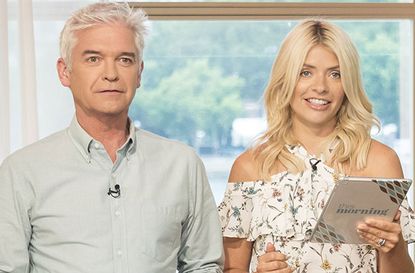 This Morning viewers have been left shocked after Tasha Maile, who made headlines last week (opens in new tab)
for her decision to have sex (opens in new tab) whilst breastfeeding (opens in new tab), appeared on the show to defend her decision.
The mum-of-three has a successful YouTube channel where she posts videos of herself breastfeeding her children, one of whom is four years old, and discusses her life as young single mum, but says: 'what people watch my videos for is really none of my business.'
In the five minute segment, Tasha attempted to defend herself by saying that her baby had been asleep during the act of sex, and that he is particularly fussy when it came to being let down. 'I shower with my baby,' she told hosts Phil and Holly. 'I'll sometimes feed my baby whilst I'm in the shower.'
However, she seemed to contradict herself when she later reasoned: 'If you're having sex in front of your children and it feels good to have sex in front of your children…' with Phil feeling that he had to warn her against what may be interpreted as a misjudged quote. 'That's one hell of a quote – it's good to have sex in front of your children,' he commented. 'The press will be all over that'.
Viewers took to Twitter to express their obvious discomfort, with some commenting on how badly she was executing her argument.
'I really think the woman needs to know where to draw the line. She doesn't seem all there to me,' said one commenter.
Another said, 'I have no idea what she was on about...NO ITS NOT OK TO HAVE SEX WITH YOUR BABY PRESENT. She needs looking into if she thinks thats ok.'
Another commented on how well the presenters managed to contain their shock during the interview, writing 'Good effort trying not to react, Holly! This woman AND HER PARTNER need educated on what children absorb.. & general boundaries. Concerning.'
'How anyone can feel sexy & want to participate in sexual activities whilst breastfeeding is beyond me. Her blurred boundaries are worrying.'