The one tattoo most women regret REVEALED
Something to read before the needle comes too close...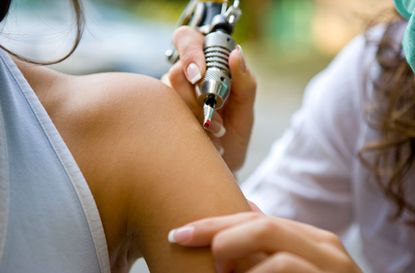 The most common tattoo regrets have been revealed by a new survey, and we can't say they're not predictable...
Tattoo regret is not a rare affair, or Tattoo Fixers would be put out of work. But which tattoos are women most likely to wish they'd never had?
According to a new survey by Casino.org (opens in new tab), the tattoo most women regret is an inking of someone's name, with 14.2% of respondents saying this was their most regretted choice.
The second tattoo women were most likely to regret is one with an animal theme (who can forget the dolphin trend?) and tribal theme, both cited by 12.8% of respondents.
Other tattoo ideas (opens in new tab) women regret are nature-themed images, with 10% saying they regretted this choice, as well as tattoos with a religious theme, star/constellations, and quotes - all with 8.5%. Faces or figures and Chinese characters are also regretted by 2.8% of women.
But if women mostly regret getting a permanent reminder of someone's name on their bodies, which tattoos do men regret the most?
Women are more likely to regret getting a tattoo of someone's name
Surprisingly, men are more bothered about tribal-themed tattoos, with 21% of them citing this as their most regretted tattoo, while someone's name came in at second place with 18.4%.
15.7% of male respondents also say they regret getting tattoos of a face or figure, and 10.5% wish they hadn't suffered to get Chinese characters on their skin.
The survey also revealed the most regretted locations for tattoos, with the upper back being the place women wish they hadn't tattooed. This is followed by feet, chest and stomach, whereas men mostly regret getting a tattoo on their biceps, calves and shoulders.
They say wisdom comes with age, and that might well be proved true when it comes to tattoos. The survey also revealed the age when people most regret their tattoo, with 37.6% admitting they were aged between 18-21 when they made their first bad ink decision.
Have you ever regretted a tattoo? Why? Let us know in the comments!