Shocked teen didn't realise she was pregnant until her waters broke
This must of come as such a shock!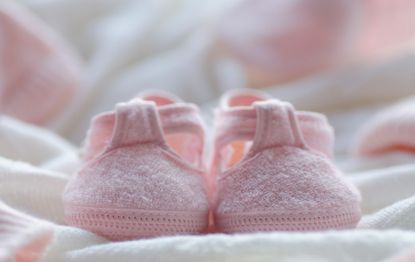 (Image credit: Getty Images)
A Dublin teenager who didn't have a clue she was pregnant, got the shock of her life when she gave birth to a baby girl.
Stunned Milaois Murphy was standing in the kitchen on an average day at home, when her waters broke.
Luckily for Milaois her mother was at hand, immediately recognised what was going on and made a frantic ambulance call.
But before either mum or daughter had a chance to fully process the enormity of the situation Mila felt something slide down her trousers. And that something was her 1lb baby girl; the teen mum would go on to call Harper.
Explaining, she told the Irish Mirror: 'She was born on the kitchen floor. Me Ma knew straight away and told me to relax and called my sister and the baby literally slid out into my trousers.
'I was so numb with the shock it didn't click with me until the next morning that I had a baby. Then I went up and I saw her and the mother instinct immediately kicked in. Then I rang her father and we went up and picked her name.'
https://www.facebook.com/photo.php?fbid=1850113768410743&set=a.255945364494266&type=3&theater
Born 14 weeks premature baby Harper needed resuscitating more than once.
After giving a short cry, the tiny infant stopped breathing and mum Milaois stepped in to perform CPR.
Doctors then took over and continued lifesaving treatment, with Harper spending a total of three months in intensive care.
Consultant neonatalogist at The Rotunda Hospital in Dublin, Adrienne Foran said: 'Harper was smaller than a bag of sugar.
'She was about 20 minutes old when I met her, she had come in with no heart rate but responded well to initial resuscitation.'
https://www.facebook.com/photo.php?fbid=1735282699893851&set=a.255945364494266&type=3&theater
At five-and-a half months old, Harper now weighs in at 8lbs but 'still looks like a newborn'.
She is cared for by mum Milaois who has taken a break from her studies but plans to go back and finish her exams in the next year.
While some may struggle to comprehend how this amazing story – which featured on the RTE channel's show The Rotunda in Ireland – played out, Milaois revealed how easy it was for her to explain away her symptoms, confessing: 'I had back pain and I couldn't sleep but that was my only symptom. I thought I was getting a bit chubby.
'The baby could have been kicking but I didn't know because I never had a baby and I thought it could be wind or something.'
Before adding: 'That night, I was vomiting and vomiting and I said, "Ma, I need to go to the hospital". We thought it was my appendix. Within seconds I felt pressure and my waters broke everywhere.'
One study revealed that cryptic pregnancies – where a mother is unaware she is pregnant until 20 weeks or more into the pregnancy - can be as frequent as one in 475 cases.
Freelance Lifestyle Writer
Miriam Habtesellasie is a freelance lifestyle writer who has contributed content to GoodTo, Woman&Home, Women and Idealhome.co.uk. Miriam is based in London and is a fan of everything interiors, she admits to being spoilt for choice living in the capital. From stunning architecture right the way through to eye-catching department store window displays, she believes there's always an angle to be found that can translate to our abodes.