We earn a commission for products purchased through some links in this article.
Image: Instagram/Curvy Kate
Have you heard of the the 'belly button challenge' yet? The premise, which reportedly originated on the Chinese equivalent of Twitter, Weibo, is simple – if you can reach around your waist and touch your belly button, you can 'complete' the challenge.
Since the concept started, hundreds of girls (and more than a few boys) have tried the test, and some of those who are taking it appear to be using it as a measure of whether their figure is 'good enough'.
Image: Instagram/nhunggumiho
Concerns were raised about the challenge being 'unhealthy', and detrimental to the self-esteem of those who can't complete it – but now lingerie brand Curvy Kate have reclaimed the challenge and transformed it into something positive, with the hashtag #boobsoverbellybuttons.
'Who spotted the crazy trend that was sweeping the Internet this weekend?' the brand wrote in a recent Instagram post. 'It's called the #bellybuttonchallenge and quite frankly is ridiculous AND pretty painful! So 'they' say…If you can reach around your whole body and touch your #bellybutton you can be deemed fit and healthy.'
'Apart from nearly dislocating our arms trying we think there are far more important things to be doing with our bodies – one of which is checking our boobs as the @coppafeelpeople have been preaching! Hallelujah!'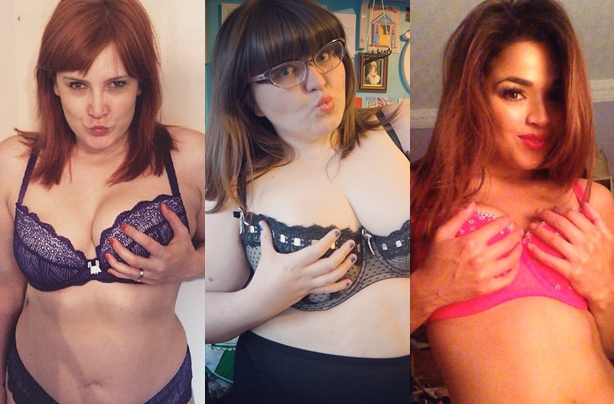 Curvy Kate followers have been showing their support for the campaignImage: Instagram/Curvy Kate
They then referred their followers to their latest blog post, which instead encourages women to check their breasts for signs of cancer.
'We think it is a far more sensible and useful way to spend your time! Taking just 2 minutes to check your boobs and get to know them could potentially be a lifesaving exercise,' Curvy Kate explains. 'So let's share it! Let's shame the body-shaming challenges (back at ya!) and love ourselves just the way we are.'
Amen to that!
And if you're still worried that you can't touch your belly button?
According to Mail Online, users have claimed that the concept came from research by US scientists, in a study that suggests women who can complete the belly button challenge have good bodies, but this research has not yet been sourced or cited – and experts say that actually, there are a number of variables that can affect your success.
Xie Wei, a fitness instructor from Nanjing in eastern China, explained to People's Daily Online: 'I can't do it either. There are three factors for achieving it.'
'The first is the person is thin, the second is having long arms, and the third is having good flexibility.'
'Apart from doing stretching exercises regularly those who can successfully do this challenge are people who are very slim with very small waists.'
Image: Instagram/befabretti
Jolene Tan, Programmes and Communications Senior Manager at Aware, a women's rights organisation in Singapore, told the BBC that the challenge can also foster unhealthy feelings of inferiority. 'Quirky poses and pictures can be fun but sometimes they also become expressions of competitiveness or insecurity.'
She also commented that the trend seemed to be 'one more way of scrutinising women's bodies to see whether they are "good enough"'. 'We need to do more to promote acceptance of diversity in women's bodies.'
We must say, we think the #boobsoverbellybuttons challenge seems slightly more worthwhile…
What do you think of the belly button challenge – a harmless trend, or a cause for concern? Leave us a comment and let us know your thoughts!