We earn a commission for products purchased through some links in this article.
We don't know about you, but we're sick to death of constantly being bombarded with images of tall, stick-thin mums with flawless, glowing skin, tummies flat as a pancake with not even a drop of spilt milk or the suspicious aroma of baby sick about them.
The expectation that you'll just 'snap back' into shape post-pregnancy is just unattainable.
So when we came across photographer Natalie McCain's campaign, The Honest Body Project, we gave a great sigh of relief. Other mums are just like us, after all.
'It's so hard being plus size, pregnant, sick, and getting negative comments about the way I look. If I'm happy and accepting of my body, why can't everyone else just be happy for me?!'
Natalie, who lives in Flordia, started the project four months ago with the intention to create an untouched and un-edited portrayal of womens' bodies, to encourage a realistic and positive body image to young girls growing up today, and to help women learn to love themselves. 
Each picture tells the unique story of each mother, whether they'd had a natural birth, a C-section, bottlefeeders, breastfeeders or had to overcome health problems and challenges along the way, she included each women's story alongside their picture.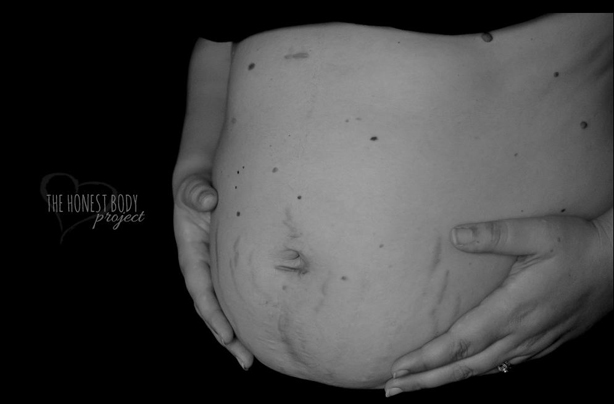 'In 2009 they found a growing mass in my abdomen. My left ovary was extremely large and due to a history of Ovarian Cancer needed to be removed. I was at that point diagnosed with Endometriosis, it was an endometrioma. Due to the severity of my endometriosis we weren't sure if I would ever be able to have kids. After 4 years and two miscarriages I will have two little girls 14 months apart, and it blows my mind!'
She learned that each wrinkle, stretch mark, lump, bump and wobbly bit had its own, beautiful story to tell.
Natalie's aim of the project was to promote a healthy body image in women and young girls
Natalie said: 'I created the project because women around the world are struggling with their body image and hardships in their lives. I wanted to create a platform where mothers could relate and know that they are not alone. The project aims to boost their self esteem and help them feel more confident in their skin. I want mothers to be good role models for the next generation of women we are raising, so that they can have healthy body images as they grow.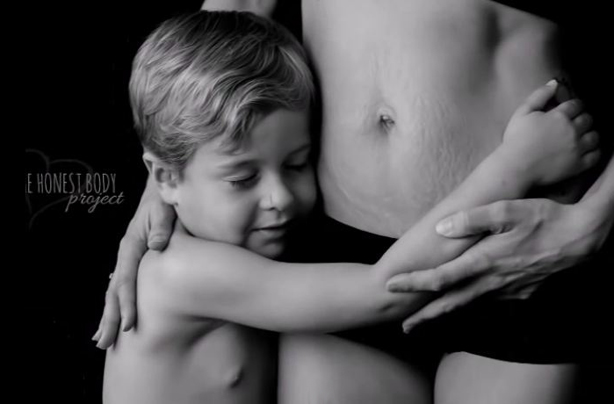 'The project has grown so fast since beginning just 4 months ago. Mothers around the world have reached out to tell me how it has helped them and it is so amazing to hear that. I hope that it will continue to grow and help more women. It has touched me and helped me to see the beauty in everyone and that every person you meet has a story that can change your life.'
'I didn't know at the time that nursing would be the center point from which my mothering would grow. I didn't envision how it would grow me like it grew my children.'
Natalie added: 'Motherhood is beautiful and no matter your size or shape, your body is beautiful and is never something to shame. When you're able to change your inner voice, your entire world changes.'
And the mums gave some pretty brutally honest accounts of motherhood, too. These are some of our favourites:
'I love my son more than I ever could have imagined, but I don't always love being a mother…'
'It's okay to mourn not having the birth you wanted. A [physically] healthy mom and baby isn't "all that matters". With my second delivery coming soon, I'm afraid I'll have regrets again or disappoint myself, so I'm going to work hard at making myself proud.'
'Everyone has an opinion on how you should deliver and raise your child, but only you know best.'
'No one tells you how scary it is to poop after a vaginal delivery and that you leave the hospital still wearing maternity clothes.'
We've got to agree with Natalie after seeing these beautiful pictures, us mums have a lot to be proud of!
You can see more of Natalie's work from The Honest Body Project, here.
Do you feel confident about your post-baby body? Let us know by leaving a comment below.