Is the 'Paracetamol Challenge' the most dangerous teenage craze yet?
And could your child be at risk?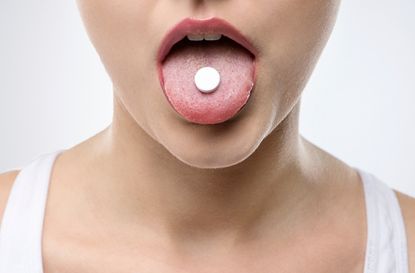 To most people, taking an overdose of painkillers is a terrifying prospect - but scarily, for some UK teenagers, it's become part of the latest social media 'challenge', with peers encouraging each other to take as many of the potentially deadly over-the-counter tablets as they can.
The 'Paracetamol Challenge', as it's become known online, has spread through social networking sites like Facebook and Instagram in recent weeks, and has already reportedly seen one young person hospitalised. Police in Coatbridge have issued a warning about the dangers of the challenge on their Twitter account, in an attempt to keep teenagers safe:
Fortunately, most of the tweets on the #paracetamolchallenge (opens in new tab) hashtag seem to be telling people NOT to take part but, despite the growing concern from the authorities and members of the public, the profile of the challenge is still rising - and with packets of paracetamol available without a prescription for as little as 25p, parents may find it difficult to prevent their children from getting involved.
One person who knows the devastation that overconsumption of paracetamol can cause is Mandy Yousef, who lost her daughter Charlotte to an overdose of the medication in 2011, at the age of just 19. In light of the recent craze, she's spoken out in the hope of preventing more teenagers from experiencing the same plight.
The 48 year old told the Mirror Online: 'My daughter was here on the Monday, and by Friday she was gone. She had fallen out with her boyfriend and it must have been a plea for attention, clearly not realising how serious taking the pills was.'
'Now you see teenagers egging each other on, and it's a peer pressure thing where they clearly don't know what they're doing. 'My message to them is: Don't end up like my daughter did.'
Should I be worried about my child?
Many schools are urging parents to speak to their children and advise them of the dangers of the Paracetamol Challenge.
The NHS website advises that specific signs of paracetamol poisoning include:
Yellowing of the skin and the whites of the eyes (jaundice)


Loss of co-ordination


Low blood sugar (hypoglycaemia), which can cause symptoms including sweating, trembling and irritability
If your child or someone you know is displaying any of these symptoms, medical help should be sought immediately. More information about what to do if someone has been poisoned can be found at www.nhs.uk (opens in new tab).
Trusted, informative, and empathetic – GoodTo is the ultimate online destination for mums. Established in 2007, our 15-year-strong archive of content includes more than 18,000 articles, 1,500 how-to videos, and 7,000 recipes.