15 things your kids are obsessed with (that secretly drive you INSANE)
Minecraft, we're looking at you...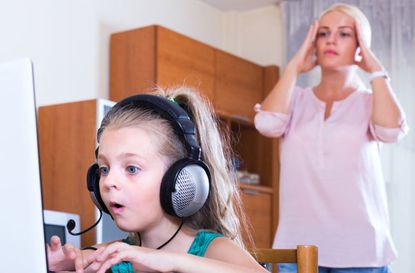 When your child becomes obsessed with something, what are the chances of it not being tidying their room, doing their homework before the day it's due or remembering where they put... well, anything.
It can be seriously cute when their heart is really into something but not so much for parents who have to endure it again and again and again. It requires a hell of a lot of patience. And probably a lot of wine, too.
From Paw Patrol to bizarre egg-opening YouTube videos, we asked you which of your child's obsessions secretly drove you up the wall on our Facebook page and we LOVED your not-so-secret answers. Oh how we feel your pain...
1. Minecraft videos
'Watching Minecraft videos on YouTube! Why would you watch someone else playing a computer game? Baffles me!' - Daniela Graf
'The awful shouty voice that goes with the videos!!' - Louise Busby
'I'm so glad to hear it's not just my sons hooked on these Minecraft videoes! Ugh. Just...why?!' - Brandi Martin
'My 5-year-old is the same with the Minecraft YouTubers to the point of asking for 'diamond minecart hair' last time I took him for a haircut.' - Katherine KJ Baxter
2. YouTube egg-openers
'My 7 year old daughter is obsessed with watching YouTube videos of mindless people opening surprise eggs or blind bags...drives me batty because I just can't see the fascination!' - Carry-anne James Whewell
'My 8-year-old daughter watches the people unwrapping and describing toys too! Not just her then!' - Alexa Schoolar
3. Frozen
'My 3-year-old is obsessed with Elsa's side ponytail and must have her hair like it every day.' - LaDonna MaRland
'My 4-year-old loves this Frozen microphone that plays music for her to sing to...ugh all day long.' - Sarah Graven
'Frozen! If I hear Let It Go one more time...lol.' - Gina Minter
4. Paw Patrol
'Paw Patrol...Paw Patrol...and more Paw Patrol' - Kim Boge
5. Certain pop bands...
'5 Seconds of Summer. She eats, sleeps and breathes the band. The internet has turned my child into a stalker!' - Sam George
6. ... and certain pop songs (played over, and over)
'The Hello song by Adele' - Stephanie Galli
'Seven Years song by Lukas Graham!!' - Laura Brymer
7. Shopkins
'Shopkins...aka Satan's toys!' - Jennifer Pedalino-Drexler
'My 6-year-old daughter watches YouTube videos of people playing with Shopkins, playdough, opening them eggs. Ughhh drives me nuts.' - Cierra Carroll
8. Peppa Pig
'Peppa Pig. Oh how I despise that pesky piggy.' - Hayley Davis
'Peppa bloody Pig, grrrr she won't even wear clothes unless it's Peppa Pig. She's 15 months and throws a huge tantrum.' - Abi Ball
'My 1-and-a-half-year-old daughter is hooked on Peppa and has been for the last 6 months.' - Sasha Goodman
9. LEGO
'My feet hurt from them each day because they are hidden in the carpet. My vacuum sucks some of them every day and damn they are expensive!' - Orak Cooperr
'They are expensive and the pieces get everywhere! If you lose one piece the thing is ruined.' - Teria Smith
10. Dabbing
'My 13-year-old is constantly 'dabbing' - what the hell is that? He does some weird move with his arms.' - Kelly Ruhf
11. Pointless
'My 18-month-old daughter is addicted to Pointless. Yes, the TV show. She waves her hands in the air as the countdown clock goes down and then claps enthusiastically when the audience does. I'm signing her up when she hits 2!' - Laura Hutchings
12. Light bulbs
'Touching the light bulbs and sore frames in the house. My son HAS to touch them!' - Hayley Kerslake
13. Toothbrushes
'Toothbrushes!! All these bloody toys and she'll role play with 12 toothbrushes and give them voices. SMH!' - Vanessa Barnes
14. Never-ending questions
'Saying the word 'why' all day every day...where does it come from?' Jenny Sari
'Asking me how old I am and how old everyone in the family is or what my talent is.' - Andrea Heaton
'It's currently dinosaurs. We had several years of a shark obsession, now dinosaurs. All got to be fact based, no cartoons. I have to know dinosaur facts to be constantly quizzed and crossly corrected if I'm wrong.' - Lisa Claire Russell
15. Hoovers
'My son is obsessed with hoovers since he was about 12 months old - he turns 4 tomorrow! I get sick to death hearing about them. He Googles them, he's got 3 small hoovers on his own and he takes his Henry everywhere.' - Emma Sutcliffe
What is your child currently obsessed with which drives you up the wall? Let us know in the comments below!