Make this fun 3D cactus craft
This craft keeps little ones busy for the mere price of some card, tissue paper and glue. What more could you want? Watch our easy how-to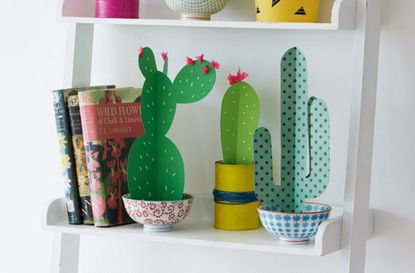 Try your hand at paper crafting with this cute 3D paper cacti craft. It's perfect for a Western-themed bedroom or just for a bit of fun with the kids. Our Gemma Chandler shows you how...
Avoid prickly ouchies with these paper-based plants. They'll keep little hands busy for the mere price of some card, tissue paper and glue. What more could you want?
Stand them in plant pots and place them on bookshelves to make a cool addition to your home.
We added an extra bit of fun to this craft by creating our very own pots for them out of tin cans. Just add a little paint and a strip of washi tape, string or ribbon for detail and hey presto. You can rest easy in the knowledge that the whole craft from the cactus to the can is 100% recyclable when you're done.
You will need:
- Cacti templates (download here)
- Green card, in different shades
- Glue stick
- Pencil
- Scissors
- White paint pen
- Pink tissue paper
Step 1
Take 3 sheets of green card and fold each in half lengthways. Glue one half of each folded sheet to the next, to form a 3D card.
Step 2
Lay the 3D card flat and place a cactus template in the middle. Draw around the template, and cut out.
Step 3
Add some 'needles' to each side of the 3D cactus with a white paint pen.
Step 4
Scrunch up some small pink tissue paper 'flowers' and glue to the top of the cactus.
Craft by: Suzie Attaway
Parenting advice, hot topics, best buys and family finance tips delivered straight to your inbox.
Gemma Chandler is a lifestyle writer specialising in kids' educational media across a range of topics including nature, history, science and geography across digital, print, social media and video channels. She joined Creature & Co. at 2015, shortly becoming Digital Editor of National Geographic Kids magazine.