Glitter jars: How to make your own calm down jar or bottle
Glitter jars can be a brilliant way to support a dysregulated child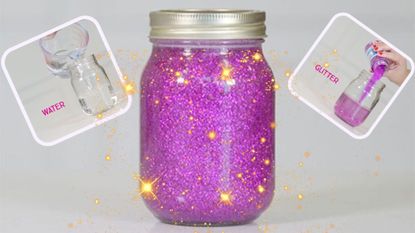 (Image credit: Future)
Glitter jars are a DIY sensory experience that can help to soothe and calm your child's mind.
With their swirling patterns and pop of sparkle, these glitter jars or 'calming jars' can be an antidote for dysregulated kids (dysregulation can look like irritable, angry, temper tantrums and outbursts). The movement of the glitter, glue and water can help to soothe and calm troubled minds. Just give them a good shake, then watch until the glitter settles in the bottom of the jar to refocus and refresh your overwhelmed child, making these DIY toys an excellent mindfulness activity for kids.
Editor's note
Note: For younger children, we'd recommend using a plastic jar or bottle rather than a glass jar to prevent accidents. Our quantities are based on a standard 500ml jar, so you may need to scale up the ratios if you're using a larger bottle or container.
Calming jars can be part of a broader strategy to teach your child emotional regulation. Watching the motions and colours in the jar swirl and settle can help your child calm their mind and focus their attention and breathing.
Read on for step-by-step instructions on how to make a glitter or calming jar, along with a helpful video. Plus, we speak to an education expert about how this simple tool can help children manage their emotions at school and home.
What is a glitter jar?
It is usually a clear, transparent jar or bottle filled with liquid (water or clear glue), glitter, or other small, colourful objects like sequins, beads, or tiny toys. A glitter jar, also known as a mindfulness or calm-down jar, is a simple and visually captivating tool often used for relaxation and stress reduction, particularly in mindfulness and meditation practices.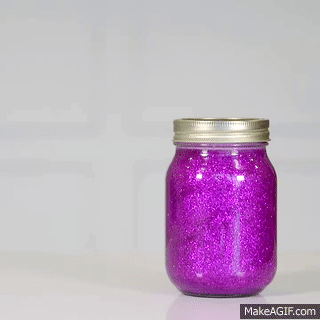 Some parents use glitter jars as regulation timers. You can do this by sitting with your little one to watch the jar until the flakes have all fallen. However, if your child is very upset, don't force them to use the calming jar. This simple tool works much better when your child is relatively calm. It can also be a helpful distraction if you spot early signs of frustration or anxiety, preventing a bigger meltdown later on.
Glitter jars are super-customisable, and you can experiment with different colours objects, and jar sizes to create a personal experience that your child can enjoy and relate to. They're also easy to make at home - read on for instructions!
Watch how to make a glitter jar:
To make a glitter jar you will need:
A jar or plastic bottle
A jug of warm water
60ml glitter glue
3 drops of gel food colouring
60g-80g glitter
How to make a glitter jar at home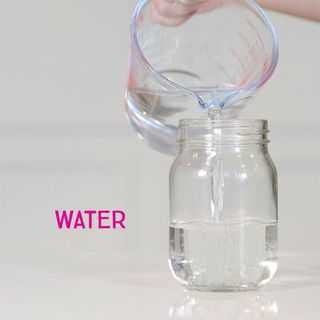 1. Add warm water to your jar or bottle. Pour the water until it reaches around a third of the way up.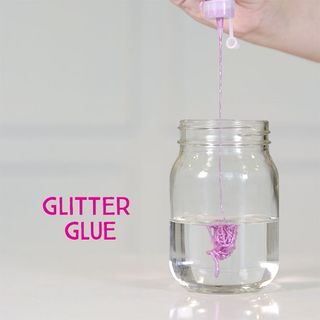 2. Add the glitter glue. Squeeze in your chosen glitter glue and stir until it has combined with the water.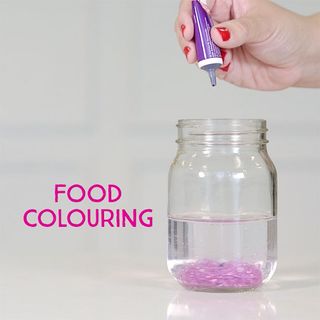 3. Add around 3 drops of food colour and stir. You can add more or less depending on your preferred shade, but remember not to add too much or the mixture will become very dark and it will become hard to see the glitter.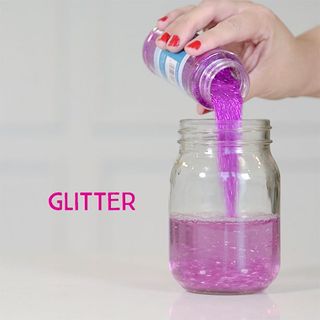 4. Pour in the glitter. Again, you can use more or less than suggested or go for a mix of chunky and fine glitter to give more texture to your jar. Stir well until combined with the existing mixture.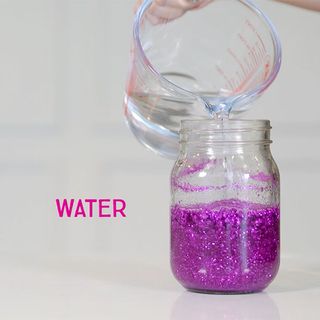 5. Top up your jar with the rest of the warm water. Pour in the water until it is almost full. Leave a little gap at the top of the jar to allow the mixture to move. Then secure the lid.
Optional: If you like, you can use super glue to stick the lid to the top of the jar or bottle.
Top tip: Some of our Goodto Facebook followers tell us that adding a squirt of baby oil or liquid soap to your jar can give a slower-moving 'galaxy' effect - give it a try and let us know how you get on!
How do glitter jars calm kids down?
Glitter jars have a calming quality that can improve a child's mental health, helping them deal with big emotions like anger, anxiety and stress.
We spoke to Genevieve Ford, Deputy Head and Pastoral Head of Downe House School in Berkshire, to learn more. "The key benefit of the calming jar is its ability to promote emotional regulation", says Genevieve. "When children become upset or anxious, they can shake the jar and watch as the swirling glitter settles. This process mirrors the settling of their own racing thoughts and emotions."
Genevieve recommends using calming jars to help children focus and concentrate,e too. "In a world filled with distractions, teaching children how to concentrate on one thing at a time is invaluable. As they watch the glitter slowly settle, they learn to concentrate on the present moment, fostering a sense of mindfulness that can be carried into their academic and personal lives."
According to Genevieve, a calming jar can even be incorporated into a bedtime routine to wind down and relax before your little one drifts off to sleep. "By incorporating this simple yet effective tool into their daily routines, we can empower our children with valuable skills they can carry with them throughout their lives, helping them navigate the challenges of the modern world with resilience and calm."
Mrs Genevieve Ford became Deputy Head (Pastoral) at Downe House after working as Housemistress of AGS and then Head of Upper School. Genevieve is responsible for the residential welfare, pastoral care and wellbeing of each student, working closely with Housestaff.
Love crafting with your kids? Get even more inspired with our free craft templates, learn how to create your very own bunny rabbit doll and discover 50 easy crafts for kids that are fun, fast to set up, and totally engaging.
Parenting advice, hot topics, best buys and family finance tips delivered straight to your inbox.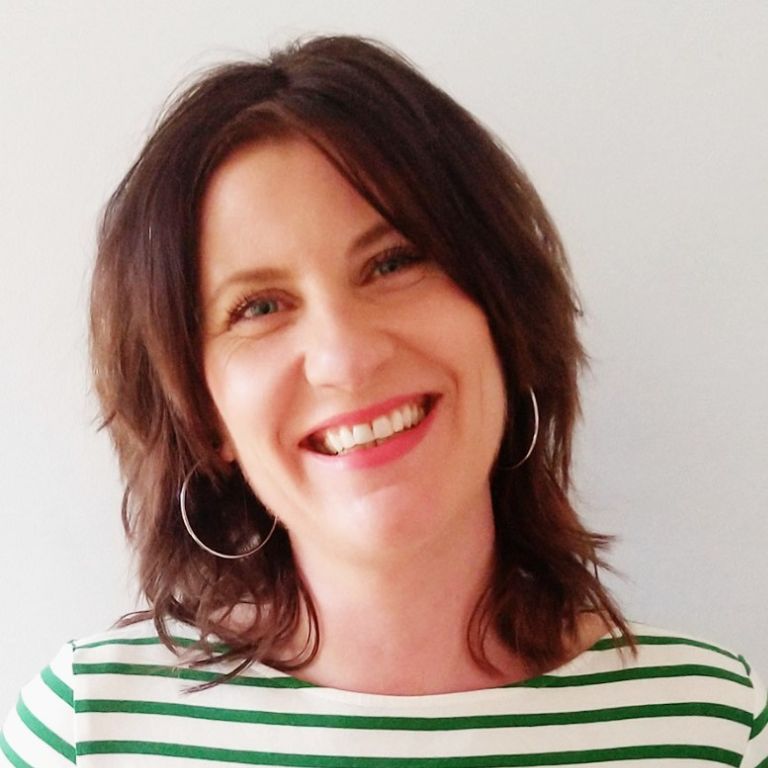 Joanne Lewsley is a freelance copywriter and editor who creates parenting, health and lifestyle content for evidence-based websites, including BabyCentre, Live Science, Medical News Today and more.


<