6 of the best ways to enjoy a family holiday on the Costa Dorada
For a beach holiday packed with family thrills and spills, head to Catalonia's golden coast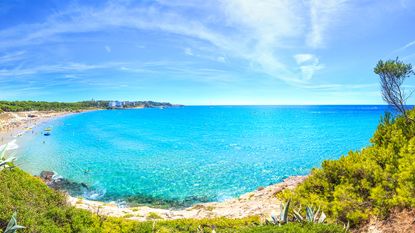 Promotional feature with Jet2holidays (opens in new tab)

For a beach holiday packed with family thrills and spills, head to Catalonia's golden coast.
When it comes to enjoying time together as a family, you can't get much better than a holiday on the Costa Dorada. Just southwest of Barcelona, this Mediterranean coastline has miles of golden beaches and safe, calm water.
With sun, sea and sand, plus watersports, fantastic food and the biggest theme park in the country, you know your kids are going to love it... But where do you start?
1. Visit Spain's biggest theme park
Days out don't get much more exciting than PortAventura. This world-class theme park in Salou is packed with thrilling rides, a water park, and even a bespoke beach.
Highlights include the invigorating Grand Canyon rapids, Furius Baco – one of the fastest rollercoasters in Europe – and the newly-formed Ferrari Land, complete with Formula One simulators, immersive cinema experiences and exhibitions celebrating this iconic brand.
Top Tip: If you have young children, make your way to SesamoAventura – a land based on the loveable Sesame Street characters – to experience mini rollercoasters, carousels and even flying chairs.
2. Hit the beach!
Like to be beside the seaside? Don't we all, which is why a beach holiday is always a good idea, especially when you're on the Costa Dorada.
Translated literally as 'Gold Coast', take your pick from miles of beaches blessed with clear waters, pretty palm trees and children's play areas. Favourites are Llevant and Ponent in Salou. Looking for that Instagram-worthy shot? Explore the little coves at Cap Salou set against a backdrop of pine-clad mountains.
Top tip: Try Penya Tallada cove. Surrounded by natural beauty, it's simply stunning.
3. Try a watersport
Kayaking, jet skiing, windsurfing and kitesurfing – you name it, the Costa Dorada has got it. With miles of golden beaches and calm waters, you won't struggle to find a watersport activity. And there's nothing like a new shared experience for a spot of family bonding.
Top tip: Head to Cambrils for kitesurfing. The calm waters and slight breeze make it the perfect place to enjoy the views.
4. Savour the local food
With fresh ingredients and fabulous Catalonian cooking, you won't be disappointed anywhere on the Costa Dorada. The cobbled town of Cambrils, said to be the culinary capital of the region, is the place to indulge in some seriously good food, though. Opt for the fresh fish, classic Mediterranean dishes and vegetarian delights. You'll even find six Michelin star establishments!
Kids less adventurous on the food front? Don't worry, there are plenty of family-friendly pizzerias and burger bars they'll adore.
Top tip: Try Suquet de Peix – a traditional seafood stew made with potatoes, garlic and tomatoes, sometimes served with a delicious romesco sauce made with garlic, peppers and almonds. Mmmm...
5. Make a splash
Need to cool off? Head to La Pineda for the spectacular Aquopolis. With adrenaline-pumping names such as Hurricane, Boomerang and Kamikaze, this is a water park with attitude.
You'll also discover plenty of slides, jacuzzis, wave pools and rapids. Lazy river anyone?
Top tip: Book your spot at the VIP zone, grab a deck chair and relax.
6. Cycle on the promenade
Cycle the palm-lined promenade from Salou to Cambrils. Stop off at glorious beaches for a dip in the sea and take in lunch and ice-cold drinks at cafes along the way, then get back on your bikes for the final push to watch the sunset at Cambrils.
Top tip: Fancy going off the beaten track? Head inland to the flat roads that weave through the dappled shade of oak and pine forests with sea views.
Jet2holidays (opens in new tab) has flights from the UK to Reus, from 9 UK airports, and a brilliant choice of 2-5* family-friendly hotels, so booking a holiday on the Costa Dorada couldn't be easier. Jet2holidays include transfers, a rep to help make every minute of your holiday a dream, and a hefty baggage allowance of 22kg. What are you waiting for? Get packing!
Zoe is a features writer and books editor for Woman&Home. Over the last fifteen years she has worked on magazine titles including Marie Claire, Now, LOOK, Woman's Weekly and Junior.
She loves to travel and is a self-confessed luxury hotel junkie following a honeymoon stay in Ravello on the glamorous Amalfi Coast, which she claims spoilt her forever. Having also visited Lake Como, Puglia, Tuscany (where she got married), Venice and Rome on more than one occasion, it's no surprise that she hopes to live in Italy one day.
Travelling with family is important to Zoe, appreciating the time she spends on holiday with her husband and two daughters. Although she loves Italy, it's Greece that's become their family holiday place. With an intoxicating mix of beautiful beaches, warm weather and chic hotels catered to families, it's a win-win for everyone.
Her most memorable trips would have to be South Africa and Canada for their vast, wild and dramatic landscapes, New York for that 'film set' feeling and swimming with pigs in The Bahamas.
The Norway Fjordes and Vancouver are firmly on her travel wish list, but she is just as fascinated by Europe's cities and could spend most of her life on short breaks - although her beach-loving husband may have something to say about that.
Always looking for that escape from the norm, a source of inspiration and relaxation away from a hectic home and work life, Zoe is most likely to be found googling 'out-of-this-world hotels' and then working out how to get there…