5 family friendly things to do in the North York Moors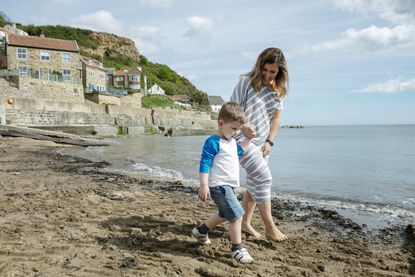 Promotional feature with Welcome to Yorkshire (opens in new tab)

From the stunning heather moorland to deep valleys, pretty woodland, soaring cliffs and outstanding beaches – the North York Moors makes a great family day out for kids of all ages. And it's natural beauty is quite simply, staggering. Whether you're cycling, climbing, rock pooling or exploring ancient abbeys, we've rounded up some fantastic things to do in and around this beautiful National Park...
Take a nostalgic train ride
Hop on a heritage steam train at Pickering. As the North Yorkshire Moors Railway winds its way through the gentle countryside, stop off at picturesque villages including Goathland – set of long-running TV series, Heartbeat – and for the kids, the Hogsmeade train station from the Harry Potter films. As the train chugs its way on to the seaside town of Whitby, challenge the kids to take on the 199 steps up to Whitby Abbey, then treat them to fish and chips for dinner.
Explore ancient ruins
If you want to help get the kids hooked on history, head to Rievaulx Abbey. The picturesque ruins of one of England's most powerful Cistercian monasteries will wow them at every turn. Learn about the monks and medieval life on the family trail – the kids will love running around this eerie but beautiful building.
Cycle in Dalby Forest
Set on the southern slopes of the North York Moors, Dalby Forest is nature's own playground. Cycling is a must along marked-out trails through 8,000 acres of woodland and open spaces, featuring children's play areas and picnic spots. Feeling adventurous? Why not camp in the forest before you Go Ape on a zip wire the next day? There's plenty to do in Dalby Forest!
Go for an idyllic walk
There are some beautiful places to walk, amble and ramble through the North York Moors, but skipping along beside babbling May Beck has got to be one of the most magical. Ancient woodland crossed with streams and brooks, and a bridge to play Pooh sticks with the little ones – it's a beautiful spot. Your parent perk at the end? The pretty Falling Foss waterfall and tea garden. Bliss.
Take a boat trip
Want to really wow the kids? Hop aboard a boat with Whitby Coastal Cruises for your chance to spot wildlife ranging from seals and otters to heron and stunning birdlife. Whether you opt for a quick twenty minute cruise around the bay at Ravenscar or sail up the pretty River Esk, it's a magical way to explore and best of all, under fives go free!
Tell me more...
The North York Moors National Park is a place alive with adventure and the adventure is yours to make. Start your own adventure at northyorkmoors.org.uk/visiting
Zoe is a features writer and books editor for Woman&Home. Over the last fifteen years she has worked on magazine titles including Marie Claire, Now, LOOK, Woman's Weekly and Junior.
She loves to travel and is a self-confessed luxury hotel junkie following a honeymoon stay in Ravello on the glamorous Amalfi Coast, which she claims spoilt her forever. Having also visited Lake Como, Puglia, Tuscany (where she got married), Venice and Rome on more than one occasion, it's no surprise that she hopes to live in Italy one day.
Travelling with family is important to Zoe, appreciating the time she spends on holiday with her husband and two daughters. Although she loves Italy, it's Greece that's become their family holiday place. With an intoxicating mix of beautiful beaches, warm weather and chic hotels catered to families, it's a win-win for everyone.
Her most memorable trips would have to be South Africa and Canada for their vast, wild and dramatic landscapes, New York for that 'film set' feeling and swimming with pigs in The Bahamas.
The Norway Fjordes and Vancouver are firmly on her travel wish list, but she is just as fascinated by Europe's cities and could spend most of her life on short breaks - although her beach-loving husband may have something to say about that.
Always looking for that escape from the norm, a source of inspiration and relaxation away from a hectic home and work life, Zoe is most likely to be found googling 'out-of-this-world hotels' and then working out how to get there…