Aldi has released a £9.99 toy that will keep your kids safe from bumps and scrapes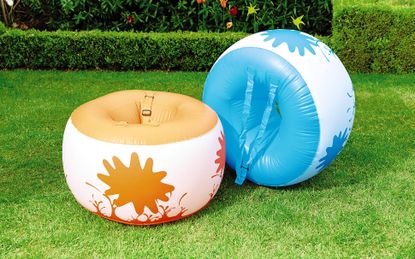 These inflatable rings can even be used in the water.
Always bringing us quirky items that we didn't even know we needed, bargain supermarket Aldi have hit the jackpot again.
Bestway Inflatable Body Bumpers are their new revelation that parents are loving.
The bumpers are thick inflatable rings designed to be worn underneath the arms and reach down to the bottom of the torso (or even to the legs for little ones).
Basically a human version of the Bumper Cars, the Body Bumpers will keep kids entertained, so you can quietly sneak away from the tiresome three-hour game of Catch that you were previously losing.
You can even dress little ones in the inflatable suits while they're running around the garden, exploring the park or going on a walk to stop them from falling and injuring themselves.
Or if the 30 degree heat has turned your screen-addicted shut-ins into water babies these can also make for fun pool floats, or can keep little ones safe if they're playing in a pool.
The adjustable straps make them suitable for those as young as four all the way up to 12-year-old pre-teens. And the bright designs make them a fun addition to the toy box.
And parenting hack 101 – if your little ones are also reaching for things in the house that they shouldn't be touching (RIP iPhone screen), pop these on and they won't be able to reach around past the end of them. Especially helpful if you have multiple culprits – see below.
https://www.facebook.com/AmbearAyesha/posts/10156194959161620
Top tip for children's birthday parties? The two different colours mean that you can make "body bumping" a team game. Grab a few boxes, split party-goers into the blue team and the orange team and let them loose.
Might give you a chance to give you ears a rest, because hosting around 20 kids is not the most relaxing Saturday afternoon.
Aleesha Badkar is a lifestyle writer who specialises in health, beauty - and the royals. After completing her MA in Magazine Journalism at the City, the University of London in 2017, she interned at Women's Health, Stylist, and Harper's Bazaar, creating features and news pieces on health, beauty, and fitness, wellbeing, and food. She loves to practice what she preaches in her everyday life with copious amounts of herbal tea, Pilates, and hyaluronic acid.