How to make marquee letters
Attract some attention with these tropical-style marquee letters!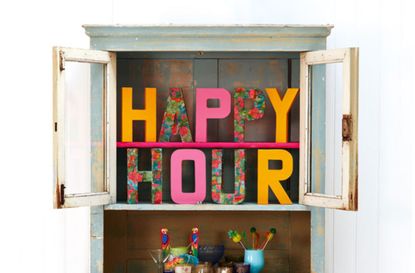 Marquee-style letters are so on-trend but can cost you a pretty penny if you buy them from an interiors shop.
That's why we've created this DIY marquee letters craft that'll make you the envy of all your friends - just don't let on about how you made them...
We chose to spell out the words, 'happy hour', for our DIY marquee letters, to jazz up an old cabinet for a dinner party, but the beauty of this craft is that it's totally up to you what letters you choose. So whether that's a loved ones' name, a funny quote or something that inspires you, you'll know they're personalised to you and your family.
This craft involves some simple painting techniques and some découpage, which involves layering pieces of tissue onto the letters and setting with a thin layer of PVA glue to give it a glossy appearance. It's a great skill to learn and once you've masteredit, it can be applied to all sorts of different crafts. Next, why not try making this découpage mirror?
You will need:
- Paper mache letters - Orange and pink acrylic paint - Paint brush - Paper napkins (of your choice) - Glue - Paint brush
Step 1
Paint the first paper mache letter with orange acrylic paint and leave to dry, before applying a second coat.
Step 2
Tear up the paper napkins into small pieces. Apply a thin layer of glue to the surface of your next letter and stick the napkin pieces to it, brushing a thin layer of glue over each piece. When the surface is completely covered, allow the letter to dry.
Step 3
Paint the next letter with 2 coats of pink acrylic paint, as before. Decoupage the next letter, and continue alternating until all the letters are decorated.
Craft by: Suzie Attaway
Gemma Chandler is a lifestyle writer specialising in kids' educational media across a range of topics including nature, history, science and geography across digital, print, social media and video channels. She joined Creature & Co. at 2015, shortly becoming Digital Editor of National Geographic Kids magazine.