How to make pretty paper fans
Our crafter Gemma Chandler shows you how to make this fan-tastic craft in three easy steps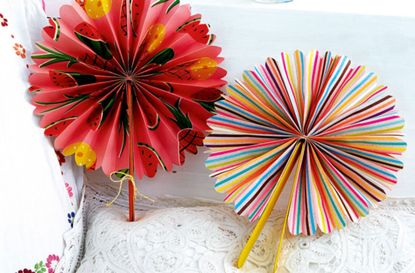 Always wanted to know how to make a fan? Well you've come to the right place.
These vibrant fans make gorgeous paper decorations for your home - try hanging along a hallway or brightening up place settings - and of course, they'll keep you cool (and effortlessly stylish, at the same time) during the summer months.
We used some good-quality, brightly-coloured wrapping paper from a craft store to make our fans, but you can use any paper you like to make these summer fan-cies!
Using just some paper and a pair of lollipop sticks make these fans one of our cheapest ever projects at GoodtoKnow, but they look so pretty displayed on a summer day that no one will ever guess that they cost so little.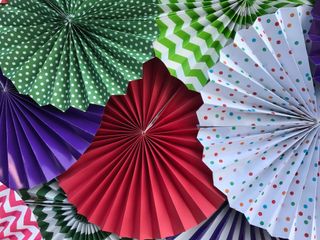 You will need:
- Patterned gift wrap - Ruler - Pencil - Craft knife - Thin wire - Scissors - Double sided tape - Lollipop sticks - String
Step 1
Measure and cut a 20 x 48cm length of paper from a sheet of patterned gift wrap. Score at 2cm intervals along the length, then fold in an accorcian style.
Step 2
Bind the middle of the folded paper with a small piece of wire. Snip the ends in a triangle or scallop shape with scissors.
Step 3
Allow the fan to open in a bow shape. Bring 2 sides together and stick with some double sided tape. Stick a craft stick to each of the other sides of the fan. Tie the fan handles together with a piece of string.
Craft by: Suzie Attaway
Parenting advice, hot topics, best buys and family finance tips delivered straight to your inbox.
Gemma Chandler is a lifestyle writer specialising in kids' educational media across a range of topics including nature, history, science and geography across digital, print, social media and video channels. She joined Creature & Co. at 2015, shortly becoming Digital Editor of National Geographic Kids magazine.