How to make a paper aeroplane
This classic craft is sure to keep the little ones busy for a while.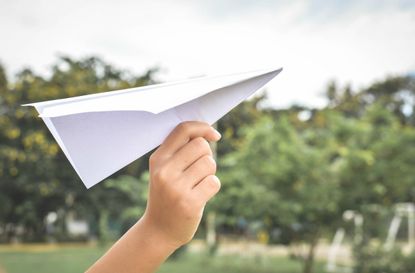 Learning how to make a paper aeroplane will sure keep the little ones busy for a while - and it may even bring back happy childhood memories of your own.
We can't help but love this nostalgic papercraft of building, racing and crashing our own paper aeroplane with our siblings.
It's those memories that inspired us to learn how to make one properly, so that it would actually fly in the direction we sent it - rather than instantly and miraculously nose diving to the floor (albeit in a spectacular fashion).
This simple method is fool proof, producing the perfect plane every time.
Ideal as an afternoon craft to do with this kids, this simple tutorial will keep them entertained long after the paper is put away.
To give it a new twist why not try making it in patterned paper, card or adding decorations. You could even encourage you little one to name their plan and design their own logo. Their imagination is the limit!
You will need
A4 paper in your choice of pattern or colour
A willing pair of hands
How to make a paper aeroplane
Step 1
Fold a rectangular sheet of paper in half lengthways, then open flat so that there's a straight crease down the middle, from top to bottom.
Step 2
Fold the top 2 corners of the paper to meet at the center fold to create the nose of your aeroplane. This should make a triangle shape.
Step 3
Take the new angled corners and fold them to meet at the centre fold, creating an even more narrow triangle shape.
Step 4
Fold the aeroplane in half along the center line, hiding the other folds inside. You're creating the body of the plane at this stage so make sure it's nice and tucked in.
Step 5
Fold down the top two flaps to make the wings, and you're done. Time to fly your aeroplane.
Have you got a paper aeroplane prototype that you think is the ultimate in design? We'd love to hear from you! Let us know in our comments below or send us a picture on our Facebook page (opens in new tab).
Craft by: Suzie Attaway
Rosie is an experienced food and drinks journalist who has spent over a decade writing about restaurants, cookery, and foodie products. Previously Content Editor at Goodto.com and Digital Food Editor on Woman&Home, Rosie is well used to covering everything from food news through to taste tests. Now, as well as heading up the team at SquareMeal - the UK's leading guide to restaurants and bars - she also runs a wedding floristry business in Scotland called Lavender and Rose.