How to make a paper hat
Learn how to make this childhood staple in three easy steps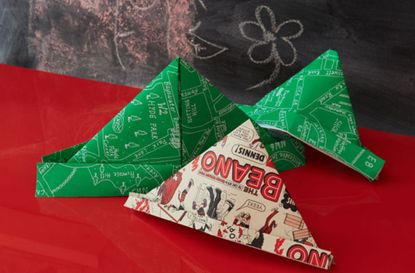 Looking for a project or papercraft to decorate a children's party? These fun hats are the perfect choice!
In fact, these even make a great activity to do with children at a party if there aren't too many over-excited little ones in the group. All they take are a few folds and some gentle opening.
And it doesn't have to be a birthday to wear a fun hat, so even when there isn't an event you could whip a few of these up as a quick-costume-fix. Think Peter Pan or a pirate. Children will love telling you what their hat is and they can design them in any colour or pattern they fancy - just make sure you've got plenty of different papers to choose from.
If your little one does decide on a particularly themed hat you could take things a step further and decorate their head wear. Try sticking a feather in the side of the brim for a dramatice feature or stick on plastic jewels for a little prince or princess.
You will need
A4 paper in your choice of pattern or colour
How to make a paper hat
Step 1
Fold a large sheet of paper in half horizontally to create a neat fold, pressing firmly with one hand to get a strong crease.
Step 2
Make the peak of the hat by folding the top 2 corners of the folded edge to meet at the centre, with the flaps lining up.
Step 3
To make the brim, lift up the bottom flap and fold it up. Flip the paper over, and repeat with the other flap. Carefully open the hat. Ta-dah! You should be looking at some beautiful new headwear - we just can't guarantee it'll keep your head warm!
Are party hats a crafty tradition in your house? We'd love to see your snaps! Let us know in our comments below or send us a picture on our Facebook page.
Craft by: Suzie Attaway
Rosie is an experienced food and drinks journalist who has spent over a decade writing about restaurants, cookery, and foodie products. Previously Content Editor at Goodto.com and Digital Food Editor on Woman&Home, Rosie is well used to covering everything from food news through to taste tests. Now, as well as heading up the team at SquareMeal - the UK's leading guide to restaurants and bars - she also runs a wedding floristry business in Scotland called Lavender and Rose.