How to make play dough stress balls
We won't tell if you make this one without the kids...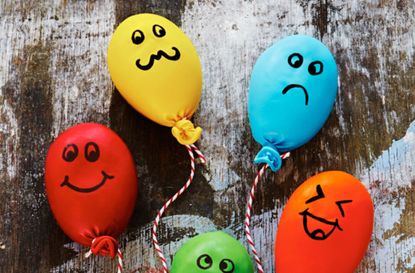 Sometimes there's a need for a de-stressing moment when crafting with kids, because they sure are good at getting that glitter everywhere. This play dough recipe (opens in new tab) craft should just about do the trick.
The beauty of this craft is that you can get the kids to help you make your very own stress balls while they're having fun making a masterpiece (read: mess), and they'll be none the wiser.
All you'll need to do is make up a batch of plain play dough (opens in new tab), get them to fill some balloons and come up with some funny faces - before you know it you'll be getting on famously with your new found stress-busting buddy.
Once you've had a go we'd love to see how your children's turned out. Simply post a pic to our Facebook page (opens in new tab).
So, here's what you have to know for making play dough stress balls...
You will need
Natural play dough
Bright balloons
Colourful wine
Black marker pens
Step 1
Make a batch of natural play dough following the basic recipe (opens in new tab) without adding any food colouring.
Step 2
Roll the play dough into thin sausage shapes.
Step 3
Take a balloon and pop some play dough inside.
Step 4
Continue filling the balloon, then tie a knot at the neck. Cut a length of twine and tie onto the balloon to look like it's string, waving in the wind.
Step 5
Draw a funny face on the balloon with a black marker pen. Why not have a competition to see who can come up with the silliest face?
Step 6
Now all that's left to do is to de-stress... You might have to wrestle them off the kids first though. In fact, we wouldn't tell if you skipped the 'making with kids' part and just had a go at these yourself. They're oddly therapeutic!
Have a funny story about making these stress balls? Leave us a comment in the box below!
Craft: Suzie Attaway
Rosie is an experienced food and drinks journalist who has spent over a decade writing about restaurants, cookery, and foodie products. Previously Content Editor at Goodto.com and Digital Food Editor on Woman&Home, Rosie is well used to covering everything from food news through to taste tests. Now, as well as heading up the team at SquareMeal - the UK's leading guide to restaurants and bars - she also runs a wedding floristry business in Scotland called Lavender and Rose.