How to make a puppet theatre
Have fun making this pop-up puppet theatre with your little ones. They will love designing the shapes for around the window and helping to cut and stick all the elements together.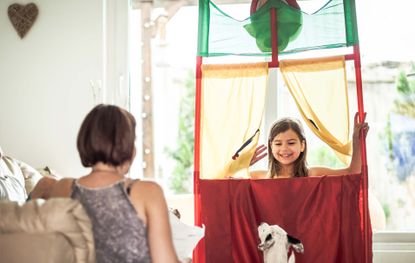 (Image credit: Getty Images)
There's nothing quite like a puppet theatre show for a children's birthday party and you could even get your little ones to help you make this before their big day.
If you don't have an old bedsheet or curtain that you want to sacrifice to the craft box then you could always buy a large piece of calico or cotton, which is typically inexpensive and would do the job. You could then paint straight onto it, using fabric paint to make it look a bit more interesting.
The great thing about this is that your kids will get plenty of use out of it, even after their party has been and gone. Simply bring it indoors and hang it from a doorframe.
You will need
An old flat bed sheet or curtain
Iron-on Velcro
Coloured felt
Contrasting fabric, for the curtains
Ribbon
Scissors or a rotary cutter
Step 1
Cut a window shape in a flat bed sheet or curtain, using a large piece of card as a template. It's easiest to do this with a rotary cutter if you have one so you'll get straighter edges than you would if you used scissors.
Step 2
Make a pair of simple curtains by cutting out two rectangles from a contrasting fabric. Attach them to the back of the window you made in the sheet or curtain, using iron-on Velcro. Cut two small slits at the sides where the curtains meet the edges of the windows. Thread through ribbon and tie around the curtain to pull them back.
Step 3
Finish the theatre off by cutting out material or felt shapes and sticking them on with fabric glue in a decorative pattern. We used various shape templates printed from the internet.
Step 4
Gather all your finest puppets and peg your theatre onto a tree branch to start the show. Now, action!
Rosie is an experienced food and drinks journalist who has spent over a decade writing about restaurants, cookery, and foodie products. Previously Content Editor at Goodto.com and Digital Food Editor on Woman&Home, Rosie is well used to covering everything from food news through to taste tests. Now, as well as heading up the team at SquareMeal - the UK's leading guide to restaurants and bars - she also runs a wedding floristry business in Scotland called Lavender and Rose.