The Three Day Nanny's top tips and tricks for disciplining your kids - would you try any of them?
Kathryn Mewes visits families for three days to try and get their kids into top form, and her tips seem to work for many, but would you try any of them yourself?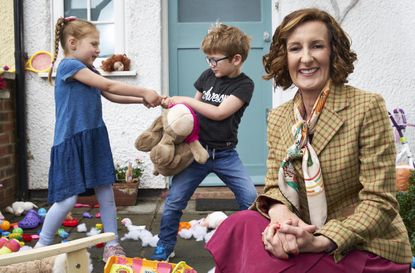 (Image credit: Mark Johnson)
As parents, it seems like we can spend a days scouring books and the internet for ways to bring up our children, and when it comes to the subject of discipline particularly, opinions are always split. Some techniques may seem too extreme for some, but can be loved by others!
Kathryn Mewes has been a nanny for over 20 years, and was trained at Norland, the same childcare college that also educated Kate Middleton's nanny, Maria Borallo.
Since starring in her television show The Three Day Nanny, on Channel 4, she's been the topic of many discussions and debates. Her parenting techniques have stirred up a lot of controversy, mostly around her claims that parents should train their children like they would a dog, and that kids should be left to sleep in their own rooms, even if they're crying.
We've rounded up a list of her top parenting tips and techniques, to see whether you think they'd be worth a go with your own brood. How many would you try?
1. Leave children to cry themselves to sleep alone in their own rooms
Apparently, this technique will have great long-term effects if it's repeated three nights in a row.
Kathryn has given this advice to many parents, saying, 'give him a good bedtime routine, read him a story, tuck him in then leave the room and turn the light out. He may get up and shout and scream but please leave him - it is the hardest thing you are likely to do.
'People will say it is child abuse but I have been doing this for 20 years, I have worked with children who are now happy and at university and have no memory of this and those 72 hours.
'It is a proven fact that after 72 hours that child will not remember how it feels to lie next to mum in bed. If you don't physically remember it, you can't miss it.'
2. Make safety a game
When consulting a parent whose son constantly ran off with his scooter, almost scooting into the street, Kathryn told her to give him stickers and tell him to stop at landmarks like benches and lampposts and put a sticker on each one.
She said that by making safety a game, your child will want to stop and listen to you and will stay out of harm's way.
3. Stop putting too much food on their plates
Kathryn says that parents often overload their kids' plates with food. 'Look at the size of the palm, that's how much protein they should be having,' she says.
The child's fist size should be their 'carbohydrate and they only need as many vegetables as they can pick up in one hand.'
4. Distract the kids on outings
We all know the pain of finally sitting down to a nice family meal, and then one of the kids starts crying loudly - swiftly ruining any chance of some nice family time. Kathryn's popular technique is to bring a bag of toys to restaurants to distract them and therefore buy you some quiet time.
5. Don't fall for their whinges
It can be hard to shut out little whines and complaints, especially when they go on, and on (and on). 'Don't fall for it. Bend down and say, "I'm turning my ears off, talk to me in your proper voice"', Kathryn suggests.
6. Try having more authority
One of Kathryn's tips, which has been met with controversy, is: 'Children like to be told what to do, like dogs. You should adopt a deeper, more authoritative tone.'
After appearing on This Morning to discuss her techniques, this tip in particular was met with a backlash on social media. One Twitter user wrote: '#3DayNanny on @itvthismorning just likened disciplining babies to training dogs. The damage we are storing up for future generations...'
7. Don't smack or scare your kids - isolate them instead
'Remove the child from the situation before you do something you regret,' she says. She says adults should think to themselves: 'I refuse to let someone half my size make my stress levels rise.'
8. Adopt a strict bedtime routine
Kathryn says that a bedtime routine should include a bath, two stories and lights out, and you should stick foil on the windows to darken the room to make the contrast between day and night more obvious.
She says that more than 75 per cent of the children she meets aren't getting enough sleep, so setting up a consistent bedtime routine will help children know that it's time to sleep and become more comfortable.
The Three Day Nanny airs tonight, Wednesday 9th, at 8pm on Channel 4.
What do you think of these tips? Would, or have, you used any of them? Let us know in the comments below!
Trusted, informative, and empathetic – GoodTo is the ultimate online destination for mums. Established in 2007, our 15-year-strong archive of content includes more than 18,000 articles, 1,500 how-to videos, and 7,000 recipes.