We earn a commission for products purchased through some links in this article.
Image: Delia D Blackburn Photography
A wedding album has gone viral after the father of the bride made an incredible gesture both for his daughter, and the stepfather who helped raise her.
Todd Bachman, biological father of bride Brittany, 21, stopped the wedding precession as he walked her down the aisle, to grab the hand of Todd Cendrosky, his daughter's stepfather, and invite him to join them on the walk as well.
Image: Delia D Blackburn Photography
The photographer at the wedding, Delia Blackburn, shared the amazing story on her Facebook page, writing alongside:
'Grab tissues… because you will need it as you look through these pictures. Todd Bachman, father of the bride, brought his daughter to the beginning of the aisle…he stopped the procession while people were confused at his actions and he walked up to his daughter's stepfather.'
'Todd reached out his hand and grabbed Brittany's stepfather and pulled him down the aisle to walk their daughter down the aisle together. NOT A DRY EYE at the ceremony..including me!'
'Families are what we make them…make it about your kids and not your ego. Congratulations Todd Bachman on showing your kids what true love really is…love for your children. Please share so that we can spread kindness throughout!'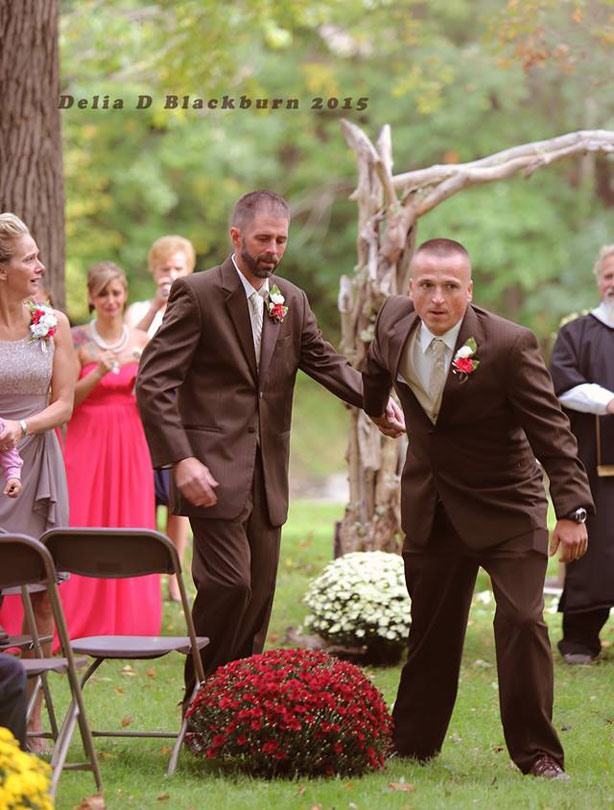 Image: Delia D Blackburn Photography
Whilst Mr Bachman admits that the families haven't always got along in the past, he told Cleveland news station WKYC, 'For me to thank him for all the years of helping raise our daughter wouldn't be enough. There is no better way to thank somebody than to assist me walking her down the aisle.'
Meanwhile, Mr Cendrosky admitted to Today News that he was overwhelmed by the kindness he was shown.
'I always wanted to walk her down the aisle,' he said of Peck. 'From day one, I looked at her as my daughter, but I knew that was Todd's — the other Todd's — given right being the birthing father. But this was his way of including me, and I thought that was the kindest gesture that anybody has ever set forth for me.'
Unsurprisingly, the photos of Todd's incredible act have been shared more than a million times on Facebook, with comments from thousands of wellwishers saying just how brilliant and selfless the gesture was.
'Class act!!! This man made a selfless decision that will be remembered by his daughter and by her stepfather forever. In the end, it's all about the love we all have for our children. Congratulations to all of you,' one commenter wrote, whilst another commented, 'Todd is a man who is a class act, and they are two awesome Dads together! Brittany is a lucky young woman to now have THREE men who love her that much, and I wish them all, all the happiness in the world.'
We totally agree – what a way to make it a wedding that no one will ever forget for all of the right reasons.