Using signals for sexy time with my husband in front of my children? I don't think so!
Would you and your other half use a signal for alone time in front of your kids? Lucy from This Mum's Life has something to say on the subject...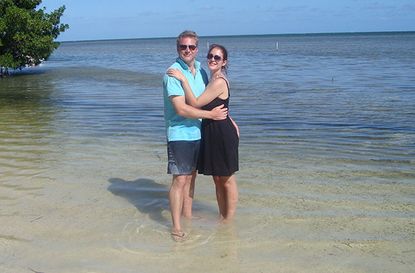 Lucy from This Mum's Life (opens in new tab) won our BISS September competition and in her guest blog explains her thoughts on using signals for alone time with her hubby in front of her kids...
It's pretty safe to say that getting sex as a parent is up there with trying to get your children and yourself, fully dressed and prepared, to playgroup, with nobody crying. It feels like mission impossible, you're often too tired to bother, and actually achieving it counts as a massive win!
But on the other hand, getting out of practice at something so important to a relationship can also lead to frustration, hurt, plummeting confidence and breakdowns in communication. All of these things make it more difficult to get back in the, erm, saddle. It can just become easier to stay out of practice, and ride off down to the pub, or to the nearest soft play selling fabulous cakes, than it is to ride each other.
That leads to an important question: How do parents find the time and the will to have sexy time (cringe, we won't call it that,) Mum and Dad time (M.A.D time? No, not that either, sex as parents is never really mad is it?).
Well, what it really is, is enough time alone, to have decent, comfortable, non-eyes-prized-open-with-matchsticks sex. Time to continue building on the foundation that the relationship would have originally been built on. Time to keep the glue holding you together, continually binding.
Well, it's come to my attention that some couples use signals and gestures while their children are awake, in order to signal to their children that they need time alone.
Now, don't get me wrong, I'm all for parental displays of affection in front of children - me and my husband kiss, hold hands, and spoon (fully dressed obviously!) on the sofa, in front of the children (this one is less frequent, as usually one of us is trying to prevent imminent injury to them/their attempted assassination of a wood louse or another child etc).
I'm also all for frank sex education for children, as early as they can understand. But I do not, in any way, feel that my children need to be told via covert gestures, that me and my husband are about to pop upstairs because the urge had taken us, and we need to be left alone.
I once walked in on my parents having sex when I was a teenager - that was traumatic enough! Had I walked in on them as a child, or been covertly told that I was to leave them alone for a time, and knew the reason was for them to have sex, I'm sure it would've negatively impacted on my relationship with them, and my boundaries of what was appropriate.
Yes, sex is incredibly important to a relationship, and yes, it mostly falls to the bottom of the list of priorities when children are brought into the mix.
You might make some kind of arrangement to do it, but then realise The Walking Dead is back from its mid-season break, then one of the children vomits, then you realise you're wearing a grey bra with grey knickers because you got so tired and messed the clothes washing up.
Then you realise you just want to sleep. Survival is often the key to the days of having young children, and rediscovering sex and yourselves as a couple will hopefully naturally come later. The children should live in blissful oblivion about that journey of rediscovery.
Lucy was selected as a BISS guest blogger after entering our September linky. For your chance to write for GoodtoKnow, check out our Because I Said So platform.SaveSave
Trusted, informative, and empathetic – GoodTo is the ultimate online destination for mums. Established in 2007, our 15-year-strong archive of content includes more than 18,000 articles, 1,500 how-to videos, and 7,000 recipes.