'You can always try again' - Mum reveals the things to never say to someone who's lost a baby
Hazel King shares her devastating experience of losing her baby daughter.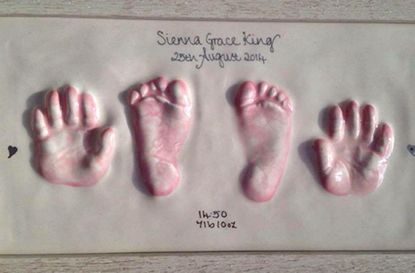 There are more than 3,600 stillbirths every year in the UK, and one in every 200 births ends in a stillbirth.
However, it still remains a topic that's not openly discussed as much as it should be - something which 35-year-old mum Hazel King hopes to change.
In 2014, Hazel's baby daughter Sienna was tragically stillborn at 36 weeks. She and her husband Martin then endured a period of what she likens to getting on a rollercoaster - 'you don't know which way it's going to go, you're just completely all over the place.'
Hazel and Martin, who live in Kent with their two sons, Harrison, eight, and Jacob, nearly one, are active members of the charity Sands, a UK stillbirth and neonatal charity that provides support for bereaved parents and families, through meetings, forums and practical information.
To mark Baby Loss Awareness Week, Hazel has opened up to us about her family's ordeal, and offers crucial advice for parents who've experienced the tragedy of losing a baby as well as tips on what to say to someone who's suffered a stillbirth.
Hazel's story
'I remember that just before we learned Sienna had passed away, I went to get my blood pressure checked'
Hazel had gone for her check-up, but as the hospital was busy the nurse asked if she wouldn't mind not having a check unless she thought Sienna had had reduced movement. 'No, no, Sienna's been moving fine', Hazel told her.
But she now wishes she'd been more forceful. 'We went to another hospital and Sienna had her heart checked, and it was beating fine. That was on the Friday morning - by Saturday morning, she had died.'
The hospital told Hazel that nothing had been wrong, and they couldn't tell what had happened because the parents chose not to have a post-mortem examination. However, another hospital consultant believed something had gone wrong with her placenta.
'There's no solid routine of how you feel, nor any right or wrong way to feel'
'It's like you get on this rollercoaster, and you don't know which way it's going to go, you're just completely all over the place,' Hazel says of her grief.
The mum likens it to 'watching the world go round, but you're in a bubble - everyone else is getting on with their day-to-day lives, and you literally just want the whole world to stop just for you'.
Initially feeling numb after the loss of her daughter, she then 'went through so many different emotions. I just kept thinking that maybe I was handling it wrong, because obviously you've never been through it before so you don't know what to expect.
'You just kind of have to go with it.'
'I actively sought out other mothers who had gone through the same thing, and I still do'
At first, Hazel struggled going to mother and baby groups, particularly when facing difficult questions like 'How many children have you got?'
'You don't want put yourself out there too much and explain that you have three children, but one has passed away,' she says.
'Talking about it did help, but only with people who understood'
Hazel credits forums and Facebook groups for giving her an outlet amongst others who've been through the same thing.
'I found it really difficult to open up to people who had never been through it themselves, because they didn't really know what to say and seemed to be really uncomfortable about it,' she says.
Those who hadn't been through a similar experience felt uncomfortable. 'It really took me a long time to think, "Well, this happened to me, and not to them". It's not about them feeling uncomfortable, it's about me feeling uncomfortable.'
'It's almost like you're in this Bereaved Mothers Club, and you only truly know how that other person feels if you've gone through it yourself. So many people tried to help, and it didn't matter what they said, it's never going to be right or wrong.'
Martin running the London Marathon for Sands in 2015 in memory of Sienna
'My husband remembers a lot more of what happened immediately after she was born than I do'
After the stillbirth, everything became a blur for her. 'I went back to the hospital days after the birth and spent time with her, but my husband was completely adamant that he didn't want to go back. He wanted to see her at the funeral, but not at the hospital.'
The grief processes for herself and husband Martin were very different: 'It struck us at opposite times, which worked well in our favour as we could pull each other up when needed.'
The couple already had a son, which inspired Hazel to pull things together. 'For the first two weeks I was just so devastated, and suddenly I thought: "Hang on, he really needs me." From then on, I tried to manage myself as much as I could.'
Explaining what had happened to son Jacob, who was only six at the time, wasn't easy. He didn't know what death was, but as he'd been old enough to see his mum's bump but no baby, explaining it properly was important. Now that he's eight, he has a much greater awareness of what happened.
'We talk about Sienna a lot, and we had a diary made for her in which we write down things we'd like to say to her'
'Harrison uses it a lot - for example, he says that white feathers are a gift from his baby sister, and if we see white feathers on a walk outside, he writes "Thank you" in the diary. We keep all of the feathers in a jar with a bow'
Sands gave the family leaflets when they left the hospital, and one of them explained how to talk to your other children about their sibling passing away.
One point that stuck out for Hazel was 'Don't sugar-coat it, and don't frighten them. Don't tell them that God was lonely and chose their sibling to keep him company, or they might think that they'll be chosen next.'
Hazel's advice to anyone who's lost a baby
1. Spend as much time with them as you can
'One of the best pieces of advice I ever received, from a school friend who had also lost her baby, was to spend as much time with your child, even after they had already passed away.
Taking pictures and videos of them, cuddling them, and having something physical to remember them by was such important information. Because once they're gone, they're gone.'
2. Have something physical to remember them by
'When a relative or friend dies, you at least have memories of what they were like as a person. It's not the same when you never get to properly meet your child.
'A lady from the company Smallprint came with me to the hospital after we learned Sienna had passed away, and captured her fingerprints in clay. I now carry her fingerprints on a necklace that I always wear, and my husband has her prints on his cufflinks. And that's something we have forever - I would never had know to do that if my friend hadn't had found the courage to reach out to me and tell me what to do.
'When you give birth to a baby that isn't breathing, you go into this numb shock. I'm glad I fought through that to get the fingerprints captured, and spent time with her.
'We also had her baptised at the hospital, and have lots of photos. I wish we had taken a video, because she changed so rapidly from the moment she was born, and the photos didn't really capture that. I also wish that I'd kept a lock of her hair, just something physically that was her in a way.
'We gave her a teddy bear when she was born, and it was with her during her time at the hospital. When we cremated her, we swapped the teddy for a new one and kept the one that had been with her.'
3. Don't listen to everyone else - trust your instinct
'Sienna had passed away due to reduced movements, and two days before I gave birth to her, I was sent home. During that time, people would remark to me about how they couldn't believe I was expected to give birth to her naturally; that they thought a caesarean procedure was the way to go.
'I'm so glad that I didn't listen to them, because I'm so glad I gave birth to her naturally. I didn't want her to be treated any differently to my other children, and I'm now really proud of myself and proud of her for going through that.'
4. Be prepared for how they may dramatically change
'Overall, we spent several hours with Sienna. The hospital put her in a cold cot to preserve her, because as she had already passed away two days before being born, she was already starting to physically change quite dramatically, which was really upsetting to me.
'I got to spend some time with her, just alone, before her prints were taken, and that was really important for me.'
5. Get support and information about the practical details
'When you lose a baby in stillbirth, even small things like what clothes to put them in once they've been born are things you have to think about. I didn't even know whether to put a nappy on her. Even in the labour itself, I thought "Well, how do I do this? How does she come out, if she's lifeless?"
'I would say that if you're of two minds whether to see them again before burying or cremating them, then definitely see them. You'll regret not doing it. My mother-in-law didn't know whether to look at her or not at the funeral, but I told her to definitely see her. Now, she's so happy that she did.'
Things to never say to someone who's lost a baby
'Everything happens for a reason' is one of the worst things you can say, as well as 'God wanted her to do better things'.
'You can always try again' or 'there must have been something that went wrong' just make you feel rubbish - they're trying to help but it really doesn't help. You don't need to try and make a horrible situation positive - it never will be.
When I got pregnant with my youngest child, my rainbow baby, everyone said 'Don't worry, nothing will happen this time.' It just irritated me, because how can they possibly know that for sure? It's perfectly normal to worry when you've gone through losing a baby before, so people saying that there was nothing to worry about just didn't help.
'Jacob was born on 15th October, the national Wave of Light Day for infant loss, strangely enough, over a year after Sienna was born. I had daily CDT monitoring throughout, and would wake up constantly panicking that he wasn't moving.
'I'd rush to the kitchen in the middle of the night to eat something sweet or cold to try and wake him and feel him moving, and go to the hospital to get scans every week. Until his was born, I didn't assume anything concrete would happen - I barely bought any clothes or anything for him.'
For more information on Sands, or for support on everything that comes with losing a baby, visit their website.
Trusted, informative, and empathetic – GoodTo is the ultimate online destination for mums. Established in 2007, our 15-year-strong archive of content includes more than 18,000 articles, 1,500 how-to videos, and 7,000 recipes.