What it's really like to be a surrogate for another couple
One woman has shared her experience...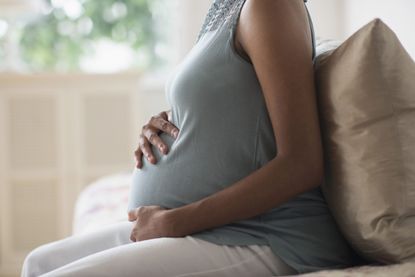 (Image credit: Getty Images)
It's an experience many women hope to experience - being pregnant with your own baby.
However, some people make the decision to carry a child for another person.
Surrogacy is when a woman agrees to physically bear a child for another person or a couple - who will then become the intended parents of the baby.
This path to having a child is on the rise in the UK - CNN reports that the number of children born through surrogacy has increased sixfold between 2007 and 2016. And it's gaining a larger public profile too - with the likes of Nicole Kidman, Kim Kardashian, and Sarah Jessica Parker having used a surrogate to have some of their children.
Family law firm Goodman Ray explained, "[Surrogacy is for] couples who wish to have a child but who are unable to carry the child themselves, for whatever reason." For some people who wish to become parents, surrogacy is a lifeline, and a viable way to have a child if they are not able to in other ways - either naturally or via adoption.
According to Surrogacy UK, the process can, biologically, work one of two ways. In 'traditional' surrogacy, the surrogate uses insemination, to create an embryo using her egg and the male intended partner's sperm.
Or, it is possible for a surrogate to simply be the host to child, using the egg of the intended mother and the sperm of the intended father to create a baby. Of course, it is also possible to use donor eggs if a mother cannot produce one, or if two male partners want a baby. Couples can also use donor sperm to impregnate a surrogate, if two women wish to have a child.
Of course, surrogacy can be a complex process, and shouldn't be entered in to lightly.
For one woman deciding to become a surrogate was a no brainer after she realised how much she might be able to help other people
Kim Bradshaw decided to become a surrogate after a personal tragedy. "I had a beautiful friend who was told she had cervical cancer, and couldn't have her own children," Kim, 37, told GoodtoKnow. "I initially wanted to help her, but she lost her battle with cancer. So in memory of her, I wanted to help a couple become a family. It really was that simple for me."
"My husband Andy was really supportive. He knew that I'd coped well with my own two pregnancies [we have two children of our own] and he felt I was physically and mentally strong enough."
Getting started with the process was easier than she thought. "I searched for a surrogacy agency on Google and found Brilliant Beginnings [a UK based surrogacy agency] in March 2016.
"Andy and I had a conversation with the counsellor there, and I also had a medical check to see if I was able to become a surrogate."
After that, the process required a home visit from the Brilliant Beginnings staff, a weight check, police checks for both Kim and Andy, and a couple of months later, Kim was matched with a couple.
If you want to find out more information about surrogacy, you can visit Brilliant Beginnings here (opens in new tab).
"Brilliant Beginnings phoned myself and Andy, and put us on the phone to our intended parents. We continued to chat, and later set up a WhatsApp group, soon arranging to meet.
"Just a few days later, our intended parents visited us at our home. I made a cake and we went for a walk around our area, and we all got along really well. A couple of weeks after that, Andy and I visited our intended parents at their home, and we stayed over at their parents vacant flat for 2 nights. We went out for dinner, went into town, on an open top bus tour. It was lovely. After lunch we came back home, and started chatting properly, about our lives, the process - everything."
Then, it was time to deal with the technical bits, and legalities of the process
Kim said, "We made our wills and also had to have our identification verified. By December, we had completed every aspect of our agreement too. It included how I would care for the baby - e.g, no alcohol, and even stating that Andy and I wouldn't risk getting pregnant ourselves - so no sex!
"In the contract, it also stated that at any point in time if I decided not to carry their baby, then I could change my mind. Andy and I also had counselling sessions at a London clinic, to help prepare us for the journey."
From then on, Kim's road to become a surrogate for the intended parents involved many doctors visits, injections, scans, and blood tests. "Then, in March 2017, we headed to London for a transfer. It was quick and comfortable. And the intended parents were able to watch the transfer too. We were given a pregnancy test for 11 days time..."
The day Kim took the pregnancy test
On 11th April, Kim and Andy were invited to the intended mum's parents house in Petersfield, so they could all do the pregnancy test together. "We were all excited with nerves. I did the test, but handed it to the intended mum and went out to the garden with everyone else, so that she and her mum could share the news together, just the two of them." Kim explained.
"Within minutes, she come out to say we were 1-2 weeks pregnant. It was wonderful - there were lots of hugs and congratulations! She phoned her partner instantly, and we were all in shock. He texted me later on explained that he'd got carried away celebrating after he'd returned home that day! He told me they were all over the moon. "
"At 15 weeks, we went for a private scan, and they found out they were expecting a girl. I was told there that my due date was 14th December."
During the course of the pregnancy, Kim and the baby's intended parents had a close bond. "The intended mother came to every appointment, and we all had a WhatsApp group that we used daily.
"For me, I just wanted to reassure them, and help them have a bond with their unborn child. The baby's mother even recorded a sound clip of herself reading Peter Rabbit, and singing, so I often held that to my belly, so their growing baby could get used to her voice. There was no awkwardness - by that time, we'd built up a good friendship, so we were comfortable saying whatever it was that we felt."
When Kim gave birth to the baby
In the middle of November, Kim left work for three months paid maternity leave, before agreeing to a caesearan section on 7th December. "I went to theatre at 08.30 and just like that, the baby was born at 09.37. My old c-section scar made it hard to get to her, so it was a slow start, but a safe one. The intended parents were delighted when their daughter was born at 7lb 8oz. It felt natural handing her over - I looked after their baby for them and I knew it wasn't mine. I didn't feel bereft - just relieved that we were all fine. The baby was perfect and birth went well.
"The day couldn't have gone better. But I experienced a real sense of relief after the birth, as my journey was complete.
"I admit though, I had a big cry when it was all over. Until then, I hadn't realised the sense of responsibility that I had carried from beginning to end."
"I experienced a real sense of relief after the birth - my journey was complete."
In January, the process began to mark the intended parents as the baby's legal guardians - under current surrogacy laws, the surrogate is still legally the guardian of the child until this process is completed.
"Would I do it again?" Kim asked. "I have no reason to say no. The little girl is two now, and I just think of her as my friend's little girl - they refer to me as Auntie Kim, or tummy mummy!
"I'm so pleased I did it, and I really enjoyed the whole process. We always go to her birthdays and the intended parents want me to remain in their life, so it truly was a wonderful experience."
What are the legal implications of becoming a surrogate?
Legally the process of becoming a surrogate can be a tricky business. The UK surrogacy market is not anywhere near as established as the UK surrogacy market.
Is becoming a surrogate legal in the UK?
Goodman Ray explain that while you are able to become a surrogate if you want to, it is actually a criminal offence to advertise that you are willing to enter in to a surrogacy agreement.
In the same vein, it is an offence to advertise that you are looking for a woman to act as a surrogate, or are able to facilitate a surrogacy arrangement.
Who are the legal parents to the child?
It's also important to remember that, for a while after the birth, the surrogate will be the child's legal parent. This needs to be changed legally once the baby is born - although the intended parents can take the baby home as soon as it's born, if this is what you both parties agree on.
If the child is born in the UK, Goodman Ray note that the surrogate is responsible for registering the child's birth too, and she will be named as the mother.
This is another thing that will need to be changed, once the intended parents become the legal parents.
Not being the legal parents of the child can have implications for a huge range of things. It can affect life insurance, inheritance rights, nationality, and who gets to make important decisions about the child's welfare in the future.
It's also important for both surrogates and intended parents to be aware that surrogacy agreements are not enforcable in court. For example, even if you (the surrogate) had a written agreement with the child's parents, it is not legally binding if one party changes their minds. If this is the case, it is up to the court to decide the best course of action for the child.
How do the intended parents become the legal parents?
Goodman Ray explains that the baby's intended parents will need to apply for a 'parental order', in order to transfer all responsibilities from the surrogate, to them.
But in order to do this, lots of different conditions need to be met. These include, but are not limited to:
The application must be made within six months of a children's birth
No payment, other than reasonable expenses, has been made or received by the couple
At least one of the couple if the child's biological parent
The child has it's home with the couple, who are married, in a civil partnership, or living in an 'enduring family relationship'.
Another of the conditions is that the application is made by a couple. Under the current laws, the order can't be granted to a single parent. But the UK government is currently proposing to change this.
Can surrogates be paid for carrying a child?
Technically, it is not a criminal offence for intended parents, or similar, to make payments to a surrogate - meaning it is not illegal to accept them.
However, Goodman Ray note that payments made will be scrutinised by the court, when the time comes for the intended parents to apply for a parental order.
Amy is Senior Digital Writer across Woman & Home, GoodTo and Woman, writing about everything from celebrity news to health, fashion and beauty features. When she isn't obsessing over the latest dress drop from Marks & Spencer, you'll most likely find Amy out running, or with a cup of tea in hand ready to dive into a gripping new Netflix series.