Pregnancy beauty: All your questions, answered!
Top pregnancy beauty and wellbeing experts solve your problems, like dying your hair in pregnancy, massages that won't harm your baby and looking after your skin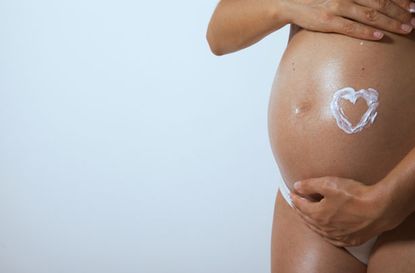 Pregnancy doesn't always mean having glowing skin, luscious hair and healthy nails.
In fact, mums-to-be can often develop dry and itchy skin and a breakout of spots as well as experience lack of sleep and, of course, those dreaded stretch marks (opens in new tab). Usually you'd know exactly how to remedy these beauty problems, but, when you turn pregnant there are a few things that change.
We want to solve some of your pregnancy beauty dilemmas, so we asked top experts to answer your beauty and wellbeing problems. Simply find your pregnancy beauty problem in the list below for an instant solution.
Can you dye your hair when pregnant? How can I stop pregnancy insomnia? What will help my dry and patchy skin? I've had brittle nails since I've been pregnant, what can I do? How can I choose safe beauty products? I'm suffering from pregnancy acne, what can I do? What's a safe pregnancy massage technique for me to try? I have pregnancy stretch marks, what can I use? Can I have botox whilst pregnant? Why does my hair thin and/or change after pregnancy?
Problem 1: Can you dye your hair when pregnant?
'I dye my hair and have been told that the chemicals can harm my baby. Is it true that pregnant women can't dye their hair?' Katie Patterson, 9 weeks pregnant.
Solution:
'Yes, it is possible to dye your hair when pregnant. Unlike in the past, colours have over the years improved drastically meaning you can get 100% coverage with an oil-based colour brand. As long as you ensure that you carry out the patch test 48 hour prior and seek approval with your GP there shouldn't be any issues. It is important to notify your colourist of your condition and any medication that you may be taking that could affect your scalp and sensitivity.'
Elena Lavagni, Founder of Neville Hair & Beauty
Problem 1: How can I stop pregnancy insomnia?
'I am 18 weeks into my pregnancy and a mother of two, already leading a hectic lifestyle. I'm finding it increasingly difficult to sleep at night and as a result find myself easily irritated through the day as I don't get time to relax. What can I do to have a good night's sleep and relax through the day?' Jade Grist, 18 weeks pregnant.
Solution:
'During pregnancy it's common to find it hard getting comfortable, not only due to your body changing and bump growing, but switching your mind off. A position that is incredibly comfortable during pregnancy and also safe to lie in is on one side with your bottom leg straight and your top leg in a 90-degree angle with a pillow rested underneath. It will give you the support your body needs and take the pressure off your weight-bearing joints.
Having a lukewarm bath before bed will lower your body temperature (once you get out), which is more sleep inducing than if you are warmer.
Chamomile tea is also beneficial and helps soothe headaches, assist restlessness and insomnia. When it's time to sleep, make sure that your environment is dark. Avoiding using the TV is a must as it can be over-stimulating to the mind and actually have the reverse effect of making you sleep!
When you get into bed, close your eyes and imagine a place or activity that is calming and peaceful for you. Concentrate on how relaxed this place or activity makes you feel.
If you need relaxing during the day, try deep breathing. Find somewhere quiet, close your eyes and take some deep breaths from the base of your stomach, breathing in from your nose and out through your mouth. Also try to avoid less stimulating foods and drinks after 7pm in the evening, such as caffeine.
Spa treatments, exercise and burning essential oils, like vetiver, chamomile and lavender are other ways you can relax during your pregnancy throughout the day. Karen Bevan-Brown, Sanctuary Spa Training Manager.
Problem 3: What will help my dry and patchy skin?
'I'm in the third trimester of my pregnancy and have small, dry patches on my face (particularly on my cheeks) which can make my face look a little blotchy. I drink lots of water and moisturise at least twice a day but this doesn't seem to make a difference.' Nicola Karayannis, 30 weeks pregnant.
Solution:
'When you're pregnant you may notice that the appearance of your skin will change due to the adjustment in your hormones. Use facial wipes to remove make-up and daily grub. These are perfect for everyday use. Swap your moisturiser for a light moisturiser, like Skin Wisdom Skin Essentials Light 24-hour Moisturiser. It's a light non-greasy moisturiser with SPF15 and provides 24-hour moisturisation, making it suitable for all skin types. It also contains chamomile, known for its anti-inflammatory effects. Remember to carry on drinking lots of water and you will see a remarkable difference in no time.' Bharti Vyas, skincare and holistic therapy expert.
Problem 4: I've had brittle nails since I've been pregnant, what can I do?
'I usually have quite strong, long nails which grow really fast and have compliments from everyone on how long they are. Over the last few weeks, growth seems to have slowed a little and my nails seem to be quite brittle and snapping very easily. I also noticed that some of them have quite dipped ridges horizontally across them. How can I strengthen my nails and what do you recommend to encourage growth of nails?' Vicki Brown, 14 weeks pregnant
Solution:
'During pregnancy, women may notice a change in their body, skin, hair and nails. Most women may experience either longer and stronger nails or it can have an opposite effect being slower and weaker for some. Generally, it's due to the amount of hormones that fluctuate throughout the body along with the intake of prenatal vitamins during pregnancy. It sounds like you are the latter half. Here are a few tips for taking care of weak and brittle nails during pregnancy:
Cut your nails short to prevent from further breakage
Do not file them square. You want to curve the edges for more strength
Use a good strengthener like Orly's Tough Cookie, which contains African Okoume extract to strengthen and moisturise your nails - a lack of moisture that contributes to brittleness
Remember to use cuticle oil! Orly's Cuticle Therapy Crème adds extra moisture with sesame and avocado oils. Keep it next to your bedside table so you can reach for it whenever needed.
Follow these rules and you should be all set! By the way, about three to six months after your delivery your nails should return to their previous state. Good luck!' Catherine Baek, education manager at Orly
Problem 5: How can I choose safe beauty products?
'I am 7 months pregnant, and my beauty worries are my facial skin and hair. It's a lie you 'glow' during pregnancy - I look rough! I feel I can't use all my normal face and hair products because I'm scared that the ingredients aren't safe during pregnancy. My skin looks dull, and my hair looks thin and flat. Help?!' Jenny Peel, 7 months pregnant
Solution:
'This is a wonderful time and a perfect excuse to start using the gentlest, most natural products around and the benefits will pay off for both you and your baby. Our Fragrance Free Face Balm is made from only organic oils and waxes and you can use this all over your body as a general moisturiser and even add it to your bath water to soften it. It is not essential that you use fragrance-free products during pregnancy but some women's sense of smell becomes so heightened that they often prefer to use unfragranced products. A good rule of thumb is that if you can eat it you can put it on your skin so experiment with making face masks with mushed up avocado or a deep conditioning hair oil with warm virgin olive oil for instance.
When buying products, go with a company that you trust to use as few chemicals as possible. Green People or Neal's Yard would be a good place to start. A great, natural way to perk up your skin or hair is cold water. With hair give it a final rinse with cold water. If you are feeling chilly you can return to warm water afterwards. The change in temperature really stimulates the scalp, which will liven up your hair. For your face, splash with cold water any time of day. Again, this stimulates blood flow which will give you a lovely glow.' Glenda Taylor, Co-Founder of Balm Balm
Problem 6: I'm suffering from pregnancy acne, what can I do?
'The spots started at about week 7 into the pregnancy and having never suffered from this before I assumed that a good skin care routine would help. I have tried everything and nothing seems to make any difference as It's obviously hormone related. What is the best way to keep it under control and prevent further outbreaks?' Wendy Butler, 17 weeks pregnant
Solution:
'I am commonly asked to see patients who are pregnant and have spots and are keen to have clear skin. Unfortunately the treatment options are somewhat limited as many of the regular treatment options for acne can adversely affect the developing foetus. A simple first line treatment is to use over-the-counter products - either a cream or body wash containing benzoyl peroxide, such as Panoxyl Body Wash 10%, which is entirely safe in pregnancy.
If this fails to control the outbreaks then I would recommend a dermatologist review to consider prescribing treatment of a topical cream containing an antibiotic and benzoyl peroxide together. I have found this to be safe and particularly helpful. Importantly a number of treatments that are contraindicated in pregnancy are also best avoided whilst breastfeeding. Finally there are a number of other rashes that can occur in pregnancy and a medical opinion should be sought for any new skin condition occurring in pregnancy.' Dr Jonathan Bowling, Melanoma expert and consultant dermatologist at Oxford Radcliffe Hospitals NHS Trust
Problem 7: What's a safe pregnancy massage technique for me to try?
'I'd really like my boyfriend to be able to give me a massage after a busy day at work. What are the safest massage techniques for him to use during my pregnancy and is there anything he should avoid?' Caroline Howard, 15 weeks pregnant
Solution:
'Massage can soothe a number of common pregnancy ailments. These include relieving lower backache, releasing tired muscles in the neck and shoulders, soothing swollen ankles and generally alleviating stress - plus it's great for keeping stretch marks at bay!
While it's perfectly safe to have a massage from the 1st trimester on, you do need to be aware of your position during the massage. Avoid lying on your stomach, so the easiest way for your partner to massage you is if you sit back-to-front on a chair, i.e. sit with your legs apart on the seat, with your tummy facing the back of the chair.
Then gently lean forwards and your partner can massage your back and the back of the calves safely. You can also lean against a pillow to give your tummy and chest a bit of support.
For the massage, you are best off just wearing knickers (not your best as they may get oil on them!). In terms of massage oil, a natural carrier oil, like sweet almond oil is ideal and avoid any essential oils unless the oil has been expertly blended for pregnancy.' Justina Perry, founder of MamaBabyBliss
Problem 8: I have pregnancy stretch marks, what can I use?
'I have stretch marks that have just started to appear. They're just below my tummy on my lower abdomen, above my pubic area (not on my belly which is where I thought they usually appear). They're sensitive and I get a burning feeling when I rub stretch mark cream on them, which I'm doing 2-3 times a day. It feels like my skin is being stretched to the maximum and I'm worried it will split. Is the redness and sensitivity normal and will my skin split if I apply the cream to vigorously?' Farley McNeely, 22 weeks pregnant
Solution:
'It is very common to get stretch marks during pregnancy, as your skin accommodates your growing bump and changing shape. Women are prone to have areas where their fat is stored and get stretch marks in a variety of places on the body, including breasts and thighs, as well as the belly where the 'stretch' is most obvious. Stretch marks can feel particularly sensitive when they first appear, as the skin's usual elastic structure is weakened and the connective tissues 'broken'.
Sometimes this is accompanied by redness, which will fade to silver in due course. However, it is unusual to get a burning feeling when you rub stretch mark cream on your skin. I recommend you stop using this particular cream immediately. Try using a product that is free from synthetic ingredients of any kind, with no artificial additives or fragrance (common culprits). I would also recommend using an oil rather than a cream. This can be very gently smoothed over the skin, rather than rubbed in vigorously, so that you can apply it with a lighter touch while you are experiencing this sensitivity.
Go for an oil that has been dermatologically-tested on sensitive skin and is well tolerated, like Weleda's Stretch Mark Massage Oil. This will be soothing and comforting. Ideally use a stretch mark oil daily from the beginning of pregnancy until the end of the breast-feeding period, while your body continues to change shape. If the problem continues, consult your midwife or GP for reassurance and advice.' Loraine Murry, natural beauty consultant at Weleda UK
Cult maternity brand Mama Mio has also received praise for its bestselling Tummy Rub Butter cream (£35) (opens in new tab), with reviewers on site awarding it 4.6 out of 5 stars. The secret to its success are the three Omega Rich oils it contains - Avocado, Inchi and Argan - which helps with skin elasticity and softness. One happy shopper wrote: "Such an amazing product, really wish I'd have found it when I was pregnant with my 1st! 21 weeks pregnant and not a stretch mark in sight." Good to Know recommendation
Problem 9: How can I avoid getting swollen ankles?
'My ankles are almost always swollen. They slowly increase in size throughout the day and the skin starts to feel a little tight and uncomfortable. My husband has given me foot massages and I have a foot spa, and both offer temporary cooling relief but don't help with the swelling. I've also tried using a cooling foot spray but it hasn't helped much either. Should I increase my fluid intake to try and 'flush' my system or wear flight socks? I'm also concerned that this may be a sign of pre-eclampsia. I spend most of my day seated in front of a computer. Does this have anything to do with it?' Bridgette de Bourbon, 15 weeks pregnant
Solution:
'About half of all pregnant women experience swelling (oedema) around their ankles, especially in the latter half of pregnancy. Swelling is caused by increased pressure on your veins from your growing uterus and fluid retention. Pre-eclampsia does not usually occur until later in pregnancy from approximately 28 weeks onwards.
Sitting most of the day in front of your computer means that the swelling pools in your ankles. Take regular breaks and stretch your legs. Make sure you also do some foot and ankle rotations whilse you are sitting to assist your circulation.
It may not be possible to reduce swelling completely, but you can take these steps to ease the severity:
Elevate your legs as often as possible
Lie on your left side to relieve pressure on your major veins
Put on support tights before you get out of bed in the morning
Drink plenty of water which assists kidney function
Avoid too much salt and pre-packaged ready meals
Eat a well balanced diet to avoid excessive weight gain
Exercise regularly, especially walking, swimming and yoga
Wrap dark green cabbage leaves around your legs to relieve swelling by osmotic pressure
Complementary therapies such as acupuncture or reflexology'
Amanda Gwynne, midwife
Problem 10: Can I have botox whilst pregnant?
'I regularly get botox but I am worried that it could end up in my baby's bloodstream?'
Lucy Jane, 15 weeks pregnant
Solution:
'Botox is a prescription medication. So, in order to be approved for on-label use in pregnancy and breast feeding (meaning a permitted, recognised use) it would need to be tested in a clinical trial in this group. Since Botox for cosmetic purposes is not considered an essential treatment, it would not be ethical to carry out such a trail so as a result Botox has never been approved as safe in pregnancy. This being said, there is absolutely no evidence that it does any harm. In some studies of cases that have received botox without knowing they were pregnant, there were no associations with any ill effects.'
Dr David Jack (opens in new tab), leading London based aesthetic doctor
Problem 11: Why does my hair thin and/or change after pregnancy?
'I gave birth a month ago and since, my hair just feels lifeless. It used to be so thick and now it's limp. Help!'
Kirsty Wild, post partum
Solution:
'During your pregnancy your hormonal levels change meaning that your hair falls out less than it would normally. After giving birth however, your hormonal levels decrease, and the delayed shedding is triggered meaning that you will lose the same quantity of hair that you should have but in a shorter timescale. This will mean your hair appears thinner and may notice larger quantities of hair dropping out.
At Neville Hair and Beauty we have the Hair Growth Mesotherapy treatment by Leading London skincare specialist Renee Lapino. It uses a mesotherapy pen to inject hair growth serum into the scalp all without needles: just air pressure. The serum is an advanced formula containing amino acids, vitamins and minerals that "awaken" dormant hair follicles, stimulating a reaction that includes new baby hair growth as well as the thickening of the hair at the scalp.
After injection, the treatment concludes with a 10 minute Champissage, or better known as an Indian head massage, to increase blood flow and stimulation to the scalp, boosting the hair renewal rate. There is no downtime, and this treatment takes 30 minutes. The recommendation is 3-6 treatments and results will develop over 8-16 weeks.'
Elena Lavagni, Founder of Neville Hair & Beauty
Problem 12: Are there any ingredients in beauty products that might be deemed unsafe to use when pregnant?
'I don't really want to change my beauty regime. However I have become aware since falling pregnant, of the number of chemicals within the products I use. Should I be concerned?'
Laura Dove, 24 weeks pregnant
Solution:
'Retinol is deemed unsafe during pregnancy because it impacts the skin on a cellular level. There's no conclusive study on whether that could impact the growth of the fetus, so it's generally considered safer to stay away from it altogether. Bakuchoil is a great skin renewing product that poses no risk and can be used instead of retinol. The only other ingredient that could be considered unsafe whilst pregnant is salicylic acid. But salicylic only needs to be avoided in high levels (over 15%) which are only present in a peel. Both retinol and salicylic acid will be marked clearly on your skincare products so just make sure to read the label.
It's also best to avoid standard Keratin treatments during pregnancy as they contain formaldehyde which is a chemical compound which could harm you and your unborn child.'
'Pregnant women should also be cautious when receiving a head massage with essential oils as they may not be FDA approved. This can cause complications during pregnancy. Other ingredients to watch out for in haircare products include parabens, rosemary, synthetic fragrances which may contain phthalates, and a preservative called methylisothiazolinone.'
Renée Lapino, Neville Hair & Beauty and Elena Lavagni, Founder of Neville Hair & Beauty
Freelance writer Lucy Gornall is the former health and fitness editor for various women's magazines including Woman&Home Feel Good You. She has previously written for titles including Now, Look and Cosmopolitan, Woman, Woman's Own, Woman's Weekly and Chat. She lives and breathes all things fitness.