Best prosecco gifts to buy right now: Gift sets, bottles, party games and more
Cheers!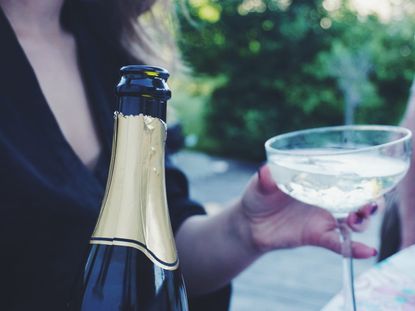 We all know someone who is bonkers for bubbly (and yes you can include yourself), and there are plenty of prosecco gifts on the market at the moment.
Up your present-giving potential with these Prosecco gifts that are perfect for fizz-loving friends.
From glasses raised at Christmas to flutes of pink Prosecco (opens in new tab) toasted at summer garden parties, Prosecco is a drink best served and enjoyed all year around. And with this particular tipple being kinder to our bank balances than its luxurious cousin, champagne, it's not hard to see why it's the drink of choice for celebrations (or just fun, social occasions).
Much like champagne, prosecco is a protected name and only the grapes grown in the Italian Veneto region can use it. It also comes in three typical degrees of fizziness – spumante (sparkling), frizzante (semi-sparkling) and tranquilo (still).As a nation, it seems we cannot get enough of the stuff - in fact, Brits are the world's biggest consumers of prosecco. In 2016, the UK drank a third of all the bubbly produced. But, not only do we love a glass of it on its own, we also adore it in cocktails (opens in new tab) - like in an Aperol Spritz, a Bellini or a Mimosa.
With this in mind, we've made a gift guide of our favourite Prosecco-themed gifts on the market right now. From novelty presents to beautiful glass flutes, there's something for everyone in our selection. But just be sure to give the gift of the best hangover cures (opens in new tab) when passing on the present you settled on...
Etsy Prosecco Party Van
Why you can trust GoodTo Our expert reviewers spend hours testing and comparing products and services so you can choose the best for you. Find out more about how we test.
Fancy giving your prosecco a little extra finesse? This gift set is perfect for transforming a glass of fizz into a prosecco cocktail. It includes mixers such as mango Bellini, blood orange Mimosa, raspberry Royale and grapefruit Bellini - so there's something for everyone.
Cost: £10
Etsy Crystal Prosecco Bottle Stopper
Nobody wants flat fizz, so this adorable crystal stopper will help keep your bottle as fresh as possible. Not to mention the agate crystal looks beautiful poking out of the top of a bottle. Both stylish and practical.
Cost: £20
Etsy Popaball Bubbles
Give your drink an extra pop with these flavoured prosecco balls. Simply add them to your glass of prosecco and they will burst in your mouth when you drink. They're similar to the popular Bubble Teas, as they add sweetness.
Cost: £3.99
M&S Prosecco and Orchid Gift Set
You can't really go wrong with some fizz and flowers. This gift set is a true crowd-pleaser with not only Casa di Amello prosecco and a potted jungle orchid, but some delicious shortbread biscuits, too.
Cost: £40
John Lewis Prosecco Bucket and Flutes
Another great gift for the fizz lover in your life (besides prosecco itself) is glassware for drinking it. This luxurious set features four thin-stem prosecco flutes and an ice bucket for chilling bottles.
Cost: £65
Etsy Prosecco Pong
This party game is great for hen dos, birthdays or simply when you have friends over. Working on the same concept as beer pong, the aim of the game is to get the ball into the prosecco glasses at the other end of the table.If you get the ball in, your opponent drinks the glass of fizz.
Complete with 12 glasses and the all-important ball, this will keep the party going all night.
Cost: £12.53
Personalised Prosecco Brut Bottle
This bottle of prosecco has your name on it… quite literally. Funky Pigeon lets you personalise a bottle of fizz by adding a first name and a surname to the front.
Cost: £19.99
Fortnum & Mason Bellini Box
A top notch Bellini is made of high quality prosecco and peach nectar and both can be found in this luxurious box from Fortnum & Mason.
This would be a great gift for someone who hosts brunches at home, or for anyone who is having people over for a celebration soon.
Cost: £33.50
Amazon Prosecco Cocktail Shimmer
Everything looks better when it sparkles and these flavoured shimmers do just that to a glass of bubbly.
The set boasts four different flavours - raspberry, blueberry, blackcurrant, and cucumber - simply add a dash to a drink, give it a mix and you're ready to go.
Cost: £9.99
Not On The High Street Grow Your Own Prosecco
We've seen all kinds of creative 'grow your own' kits emerge over the last few years, from 'grow your own wonky vegetables' to 'grow your own mojito cocktail' packages. Now there's an unexpected one for fizz lovers. This 'grown your own prosecco' kit comes with a grape vine which is designed to withstand fickle British weather.
Cost: £38
With a BA hons in English from the University of Liverpool Lizzie has over 7 years' experience writing all things lifestyle for national titles such as Evening Standard, Woman and Home and the Metro.