What is Pink Prosecco and where can you buy it?
Have you heard of pink Prosecco? Want to find out more about this fizzy tipple everyone is rushing to the shops to buy? Here's everything we know about Prosecco DOC Rosé...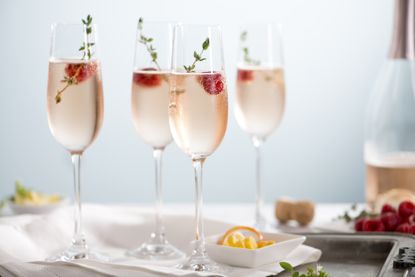 (Image credit: Getty Images)
The latest trend to hit the booze aisle is Pink Prosecco, but what makes this fuchsia fizz so special?
Prosecco DOC Rosé (aka pink Prosecco) is brand new and a pretty big deal in the wine world. And it's safe to say this blush bubbly has proved just as popular in supermarkets too, with some excellent prices rivalling some of the best cheap wine deals (opens in new tab) around. But of course don't just take our word for it - as Chairman of the Consorzio Tutela Prosecco DOC Stefano Zanette explains: "The UK is the largest market in the world for Prosecco DOC."
Pink Fizz has been a long time coming too - owing to the extremely stringent regulations that define which Italian sparkling wines can be categorised as Prosecco. A bottle must be made in a particular way from grapes grown in a small area in Northern Italy. And once these measures have been met, only then can it be exported and sold as such in the UK.
Undoubtedly a drink that could cause a sore head and a search into the best hangover cures (opens in new tab) the next morning. Be sure to check our favourite fizz below - taking your pick between regular pink or low calorie wine options also available.
*What is pink Prosecco? *Where to buy pink Prosecco *What can you make with Pink Prosecco?
What is pink Prosecco?
Why you can trust GoodTo Our expert reviewers spend hours testing and comparing products and services so you can choose the best for you. Find out more about how we test.
In terms of taste, new Rosé Prosecco is similar to regular Prosecco: it retains the vibrant bubbles and freshness. But with the enhanced colour comes a floral and fruity flavour addition, think summer berries. Like classic Prosecco, Rosé Prosecco is perfect served as an alcoholic drink before a meal to stimulate the appetit. We're already thinking of saving a bottle or two for a New Year's Eve pink pop. It also pairs exceptionally well with fish dishes, cheeses, and charcuterie such as bacon, ham and terrines.
In fact, you may already be a fan as you may have tasted a similar pink fizz before, but it wasn't called Prosecco. Sam Caporn Mistress of Wine and Aldi's resident wine expert explains: "Shoppers might have already enjoyed Italian rosé (or rosato) sparkling wine, but it won't actually have been Prosecco, because pink Prosecco hasn't previously been permitted."
Prosecco is a sparkling wine that must be made in accordance with some pretty strict regulations. For example, Prosecco must be made from predominantly Glera grapes which are mixed with Chardonnay, Pinot Grigio or Pinot Bianco. All of the grapes used to make any Prosecco must be grown in a specific region of Italy. Have a look at a bottle of Prosecco and you will see initials either DOC or DOCG. These specify the precise area within the Prosecco making region, with DOCG being slightly more premium variety.
According to the new rules allowing the production of Rosé Prosecco specified by the Consorzio Tutela Prosecco: DOC Prosecco DOC Rosé must be made of at least 85% Glera grapes mixed with 10-15% of Pinot Nero. The wine must also adhere to the other Prosecco rules such as being produced in the same area and having a second fermentation of at least 60 days.
So when you buy that bottle of pink fizz and pop it open with friends and family, know that a lot of effort and thought has gone into making that delicious bottle.
Where to buy pink Prosecco
Many supermarkets have frenzied to stock this brilliant blushing fizz. And we expect to see it flooding the hospitality industry soon too. Pizza Express is one of the first restaurants in the UK to add Prosecco DOC Rose to its menu and we anticipate others will soon follow suit.
Pink prosecco is a pretty drink that often comes in attractive bottles that would make a lovely gift. Here are some new bottles of Prosecco DOC Rosé that we can't wait to try!
M&S Conte Priuli Oro Rosa Prosecco Rosé
Price: Case of 6 £90 (£15 per bottle)
Deliciously fresh with delicate aromas of strawberries and raspberries - adding fruit is a great way to pimp your prosecco (opens in new tab). You can currently buy this stunning rose prosecco online in boxes of 6. But it will soon be launching in M&S shops too.
View at: M&S (opens in new tab)
Sea Change Prosecco Rosé
Price: £12.99 or £10.99 when buying 6+
This Prosecco doesn't just taste good, it also does good. Good for our planet. Sea Change is a sustainable wine brand committed to making a difference. With each bottle purchased, Plastic Oceans UK, one of Sea Change's charity partners, receives a donation that goes towards helping combat the estimated 10 million tons of plastic that is dumped into the oceans every year.
View at: Sea Change (opens in new tab)
i heart Prosecco Rosé
Price: £9
Fizzy and fabulous and just in time for Valentine's day. So instead of roses how about rosé? Feeling saucy? Treat your valentine to a glass in bed! Or even to accompany a romantic bougie brunch. Spoil yourself and your loved one with a bottle of the pink stuff!?
Available in Sainsbury's stores nationwide
Tesco Finest Prosecco Rosé
Price: £8
Tesco Finest Prosecco Rosé is described as "crisp and light, with elegant floral aromas and bright citrus fruit, complemented by notes of fresh, ripe red berries."
Available in Tesco stores nationwide
Aldi Prosecco Rosé DOC
Price: £6.49
Famous for their incredible value booze and keeping their finger on the drinks pulse Aldi was one of the first supermarkets to sell Rosé Prosecco in the UK. And at under £6.50 a pop it's a great value option. With an understated bottle, we think this would be ideal with a seafood supper. How about really glamming up those Friday night fish 'n' chips?
View at: Aldi (opens in new tab)
Aldi Prosecco Rosé DOC Mini
The bottle above also comes in a mini 250ml version. Fizz goes flat so it's no good opening a bottle for just one glass. But this little bottle is perfect for pouring just one special glass. We also love using small single serving bottles when making cocktails (opens in new tab) so nothing goes to waste.
Price: £2.29
Available from Aldi
Lidl Rosé Prosecco
Price: £6.49
As you might expect pink prosecco has become a bit of a competition between Lidl and Aldi. Both launched on the same day at the same price. Lidl's Rosé Prosecco (opens in new tab) offering is pink and fruity and is described as being not too dry with a gentle fizz. We have to say we adore the bottle of this one, it would be fantastic at a party.
Available in Lidl stores nationwide while stocks last
Mionetto Rosé Prosecco
Price: £10.95
We're big Mionetto fans so are excited about this new arrival. With "elegant aromas" and a "fruity bouquet of grapefruit and red berries" it sounds utterly divine.
View at: Slurp (opens in new tab)
Asda Fillipo Sansovino Prosecco Rose
Price: £6.50
Another very competitively priced option. Fillipo Sansovino Prosecco Rose is made with 10% of Pinot Noir added to the Glera blend. It's described as "fresh with delicate floral notes and soft strawberry and raspberry fruit flavours". The pretty pale salmon colour of this one really appeals. It just screams summer in a bottle!
View at: Asda (opens in new tab)
Harvey Nichols Prosecco Rosé NV
Price: £16.95
Pop bottles in style with this fancy pink fizz made by the highly respected Bronca sisters, Antonella and Ersiliana, for Harvey Nics. With a stunning coral colour, this pink beauty is described as having "a lovely core of ripe red berries, perfectly balanced by a long, dry finish and notes of tangy redcurrant, citrus, rose petal and cherry blossom." Cheers.
View at: Harvey Nichols (opens in new tab)
Bottega Brut Rosé prosecco
Price: £24.99
At the other end of the price scale, this stunner makes for an impressive gift if you can bring yourself to part with it that is! The mirrored pink is very TOWIE chic, perfect if you're looking to splash out. Bottega Brut Rosé prosecco is described as having "decadent notes of strawberry, cream and vanilla".
View at: Selfridges (opens in new tab)
What can you make with Pink Prosecco?
The possibilities are endless, cocktails and decadent jellies and delicious frozen desserts spring to mind. Pink Prosecco can be used in any recipe where prosecco or sparkling rosé wine are used, but best used where you can see the gorgeous colour. Here are some easy recipes to make using pink Prosecco...
Grown-up strawberry jelly
This is certainly one just for the adults. But make it extra special by swapping the rose wine in the ingredients for pink prosecco.
Get the recipe: Grown-up strawberry jelly recipe (opens in new tab)
Elderflower champagne
This is one of our favourite cocktails in summer. The sweetness of the cordial is perfectly balanced with the alcohol. Traditionally made with champagne swap this for a delicious pink fizz. The colour will look even more appetising and it will amazing too.
Get the recipe: Elderflower champagne recipe (opens in new tab)
Prosecco cream puffs
These divine eclairs are a great way of using leftover Prosecco. They are a little bit tricky to make but we guarantee once you get the hang of them they'll be a regular on your dessert repertoire.
Get the recipe: Prosecco cream puffs recipe (opens in new tab)
Champagne berry zabaglione
In contrast to making choux pastry for cream puffs, this recipe is incredibly quick and easy. it just requires 4 ingredients to make this dessert. It's lovely and light, so ideal after a big meal, and the fresh fruits are perfect in summer. Using rosé Prosecco in place of the sparkling wine will add a beautiful subtle blush to the whisked eggs and will complement the berries well.
Get the recipe: Champagne berry zabaglione recipe (opens in new tab)
Negroni spumante
This recipie for Negroni spumante recipe is somewhere between a Negroni and a spritz. The addition of Processo makes it more palatable for those less fond of strong drinks.
Get the recipe: Negroni spumante (opens in new tab)
Video of the Week
Rose Fooks is Deputy Food Editor at Future Publishing, creating recipes, reviewing products and writing food features for a range of lifestyle and home titles including GoodTo and Woman&Home. Before joining the team, Rose obtained a Diplome de Patisserie and Culinary Management at London's Le Cordon Bleu. Going on to work in professional kitchens at The Delaunay and Zedel.