The Cadbury Creme Egg trifle that divided fans last year is BACK
Will you be trying the Layers Of Joy pudding?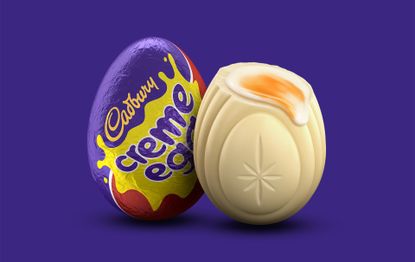 (Image credit: Cadbury)
Cadbury's Creme Egg trifle, which received mixed reactions last year, is officially back in stores.
While winter is already here, Easter is coming and bringing with it the usual indulgent treats.
Cadbury has already announced their white Crème Eggs are making a comeback next week - alongside the competitive egg hunt - and there's another product returning to the shelves, albeit slightly more controversial...
We're of course talking about the Cadbury Creme Egg triffle.
The sweet pud was first launched in January last year, and it caused quite a stir among Cadbury fans who couldn't decide if it the best or worst thing ever.
If the blurb on the packaging is anything to go by, the pudding sounds incredibly indulgent and not for the faint-hearted.
'A layered sharing dessert with Cadbury milk chocolate, chocolate mousse, chocolate chip cookie and fondant dessert with a creamy topping,' a message on the Layers Of Joy box states.
https://www.facebook.com/BagEnvy.UK/photos/a.529922573755670.1073741828.118021954945736/1543963765684874/?type=3&theater
It's being stocked at most supermarkets and can be snapped up for £3.49.
When we broke the news of the pudding's launch on the GoodtoKnow Facebook page (opens in new tab), it caused quite a stir among our readers. Hundreds kindly shared their opinions with us, with one saying: 'Almost better than donuts'; and another adding: 'Oh my days! Gimme it!'
It appears, however, that the creamy concoction doesn't appeal to everyone. Some joked that the trifle would cause health problems and others were simply put off by its appearance.
If the Cadbury Creme Egg trifle doesn't appeal to you, why not try one of our delicious Creme Egg recipes (opens in new tab)? We've got over 20 different ideas for delicious homemades desserts and puds - all using Creme Eggs - that you can try at home
'Love creme eggs, but this looks foul. Just no.' pondered a critic, while another said: 'Whaaaaaaaaaaaaaat??? That's... too much... what? What!?'
What do you think? Are you tempted to try the new Cadbury Creme Egg trifle? Or perhaps you've tried it already? Let us know your verdict in the comments below!