ASDA has launched a pink grapefruit gin for Mother's Day - but you'll have to be quick!
This sweet, citrusy tipple will only be around for a limited time…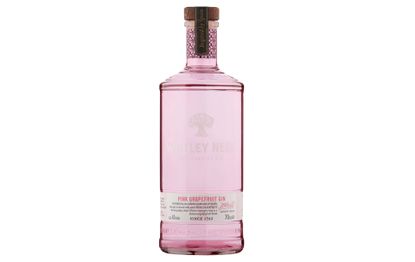 This sweet, citrusy tipple will only be around for a limited time…
The new Whitley Neill Pink Grapefruit Gin is inspired by the citrus groves of Spain and infused with zesty pink grapefruit.
'With the popularity of gin still growing, we want to give our customers something to sip throughout spring and share with their loved ones, making it the perfect gift for mum on 31st March,' said ASDA spirits buyer Lauren Bungay.
'Gin has rapidly become one of the nation's favourite drinks, and the launch of Whitley Neill Pink Grapefruit Gin gives our customers a refreshing twist on their favourite spirit.'
It's packed with fragrant botanicals, with juniper berries, coriander seed, cassia bark, orris, angelica and liquorice root, sweet orange, lemon peel, pink grapefruit, lime flowers, balm herb, cloves and chamomile. ASDA suggests loading mum's glass up with summer fruits and ice if you really want to make her smile.
The gin - which will set you back £20 for a 700ml bottle - is available exclusively at selected ASDA stores and online until 20th April, so you'll have to be quick.
If you're after something a bit different, ASDA has also relaunched its limited edition Extra Special Raspberry & Rose Gin Liqueur – perfect if mum has a sweet tooth! The striking dark pink tipple has a delicate sparkle, which gives it some serious wow factor. Simply shake the bottle to activate the shimmer.
The liqueur was originally launched for Valentine's Day, but was so popular that it's been brought back for Mother's Day.
'Loved this gin and it's not too sweet or sickly either,' said one ASDA shopper.
'This is my new favourite tipple,' another reviewer agreed. 'So tasty. Especially with a splash of tonic, ice and a slice of lime or cucumber. Really easy to drink. Refreshing.'
'This is now my new FAVE!' another added. 'It is fruity and light. I must say it will be a hit in the summer months. It also has a shimmer to it, so looks perfect in the glass when poured.'
The liqueur costs £12 for 500ml and is available online and in stores now.
Samantha is a freelance writer at Goodto who has been with team since 2019. Initially trained in psychology, she specialises in health and wellbeing and has additionally written for magazines such as Women's Health, Health & Wellbeing, Top Santé, Healthy, Refinery29, Cosmopolitan, Yahoo, CelebsNow, Good Housekeeping and Woman&Home.