Asda launches pizza delivery service, but there's a catch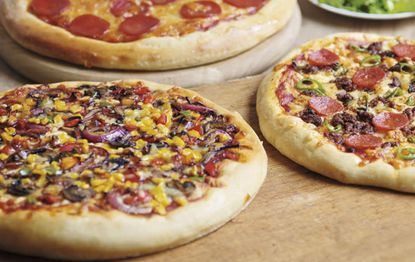 (Image credit: Asda)
Leading supermarket Asda is branching out into the takeaway business.
Asda's hot pizza stand has been a long-time Friday night favourite for big families who want a cheap, easy and delicious dinner. But the only drawback has been actually having to go to the supermarket to pick one up.
But now the nationwide grocery store is teaming up with takeaway delivery service Just Eat to bring you their legendary pizzas right to your home.
To place an order for your favourite Asda pie, all you have to do is download the Just Eat app and order via there as you would with a normal takeaway.
They will then send the order directly to the Asda store, where it will be cooked at their pizza stand and then delivered straight to your door.
It's not quite Domino's, as there's currently only four options available. You can choose from Pepperoni, Vegetable supreme, hot American Sizzler or classic Margherita.
But for only £6 for a massive 16-inch pizza, that's even better than a Two for Tuesday.
Or if you want a full-on family takeaway you can order a special meal deal to make the dinner go further.
For only £15, the special meal deal includes any pizza, four sides, one drink, a dessert and even a dip for your crusts, so nothing goes to waste.
The only catch? At the moment, the service is only being trialled in four selected stores, which are, Killingbeck (where it's available already) and Beeston, both in Leeds, Wakefield in West Yorkshire and Livingston, Scotland.
So for anyone living within a two-mile radius of those stores you can get ordering from 19 November. Everyone else, you'll have to wait a little longer sorry!
Looks like the rest of the country will still have to head to down store to grab a slice at the moment. But it does mean that while you're down there you can pick up their giant mince pie and chocolate orange flavour Viennetta. Yum!
'We are really excited to be trialling this new service in our store in Killingbeck, along with plans to roll out to three more stores later this month,' said James Ainger, Asda's Senior Buying Manager.
'We know our customers love Asda pizzas and now they can have them delivered to their doorstep.'
Let's hope we don't have to wait long for the countrywide rollout!
Aleesha Badkar is a lifestyle writer who specialises in health, beauty - and the royals. After completing her MA in Magazine Journalism at the City, the University of London in 2017, she interned at Women's Health, Stylist, and Harper's Bazaar, creating features and news pieces on health, beauty, and fitness, wellbeing, and food. She loves to practice what she preaches in her everyday life with copious amounts of herbal tea, Pilates, and hyaluronic acid.