Asda is selling a chocolate orange flavour Viennetta
This is going on our Christmas food list...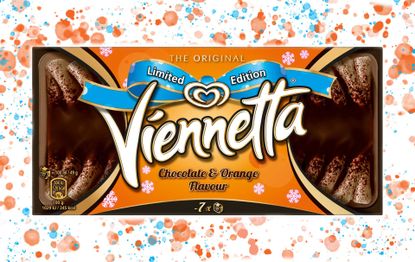 Asda are launching a chocolate and orange flavoured Viennetta and you're going to want to stock up!
At this time of year everyone gets excited about the indulgent treats that the festive season brings.
And nothing gets us in the Christmas spirit quite like a sweet festive treat.
As much as we all love Quality Street (opens in new tab) , Celebrations (opens in new tab) and the new Oreo Christmas tin, (opens in new tab) finding a Terry's Chocolate Orange in our Christmas morning stocking is what really makes the holiday.
So ice cream classic Viennetta has stepped in to give us a real Christmas treat with a twist this festive season.
While we all love the vanilla and mint versions of the sweet, creamy, crispy layered ice cream (which is currently only £1 in Asda), the dinner party dessert staple has released a chocolate orange flavour just in time for December – so let the festive celebrations begin!
If you love chocolate and orange flavoured foods you need to get your hands on a jar of this chocolate spread from M&S (opens in new tab)
The limited edition flavour, inspired by everyone's favourite festive chocolate, will be available to buy in Asda, so get down to your local and get your hands on it as soon as you can.
And you better make room in the freezer because it's available for only £2 for a standard 650ml packet, which serves around 7 people, so you can stock up before it's off supermarket shelves.
If you're a major Terry's chocolate orange fan, you really have to try making our Terry's chocolate orange fondant cake (opens in new tab) for the festive season too – it's a true Christmas Day dessert that everyone will love tucking in to. Plus leftovers warmed up in the microwave topped with chocolate orange Viennetta ice cream, what more could you want?
Fans have rushed to share their excitement over the latest Viennetta creation on HotUKDeals. One fan said 'Oh wow I need this in my life', another said 'Serves 7???? Who they kidding'.
We cant' wait to get our hands on a tub of the new Viennetta chocolate orange.