At My Table: Everything you need to know about Nigella Lawson's new TV show
It's airing VERY soon!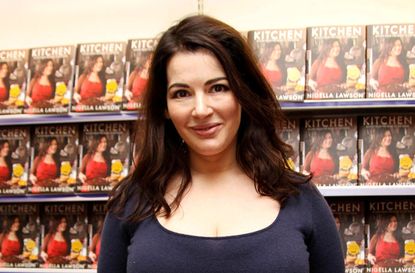 At My Table is the very latest TV offering from the Queen of indulgent foodie delights, Nigella Lawson. With a string of successful cooking programmes and recipe books behind her, her latest book and TV show focus on simple home cooking.
The cook, author and mum of two announced she was launching a new book back in April, aptly named At My Table since it's a 'a celebration of home cooking'.
Nigella says this is a collection of dishes that everyone can bring to their own tables, with vibrant and varied flavours but always relaxed.
Taking favourites from her family's table, Nigella has also said that she hopes these recipes will evoke memories and call to light food stories for the readers or viewers. With her detailed storytelling style we're sure she'll manage just that.
What recipes will Nigella be cooking on Nigella: At My Table?
So, what will the culinary legend be making on her new show Nigella: At My Table? A good question we think. Usually one for richly indulgent Italian food, it looks like celebrity cook Nigella has gone for something a bit more paired back this time, saying that the recipes for At My Table come from a catalogue of dishes she ate while growing up, as well as being inspired by the food she's cooked for family and friends over the years. Never one for bland food though, Nigella Lawson's new dishes are still inspired by interesting international cuisines, including French, Moroccan and Mexican.
For the first episode of the show, Nigella will be sharing some new discoveries like her Turkish-inspired eggs, as well as a simple chicken and pea tray-bake.
In fact, the veggie one pot-supper (opens in new tab) is one of Nigella's personal favourites, after receiving the accolade of 'Queen of the Frozen Pea' from 'the great Nigel Slater'.
Other delicious lunch (opens in new tab) and dinner (opens in new tab) ideas include apple pork chops with sauerkraut slaw, flash-fried squid with tomato and tequila salsa, fennel and carrots with harissa, Moroccan vegetable pot, meatballs with orzo and chicken fricassee with marsala and chestnuts.
And of course, Nigella wouldn't leave us all high and dry without so much as a taster of dessert after all those savoury suppers. Twists on new classics are the order of the day when it comes to sweets, with Nigella revealing that there'll be a Victoria sponge (opens in new tab) with cardamom and crème fraîche, white chocolate cheesecake, and emergency brownies in her new recipe collection.
When is Nigella: At My Table on TV?
Nigella's brand new series - Nigella: At My Table - will be coming to our screens on Monday 30th Oct, at 8.30pm, on BBC2.
Are you excited to watch Nigella: At My Table? Let us know in the comments!
Rosie is an experienced food and drinks journalist who has spent over a decade writing about restaurants, cookery, and foodie products. Previously Content Editor at Goodto.com and Digital Food Editor on Woman&Home, Rosie is well used to covering everything from food news through to taste tests. Now, as well as heading up the team at SquareMeal - the UK's leading guide to restaurants and bars - she also runs a wedding floristry business in Scotland called Lavender and Rose.